Best Holiday Sweet Potato Souffle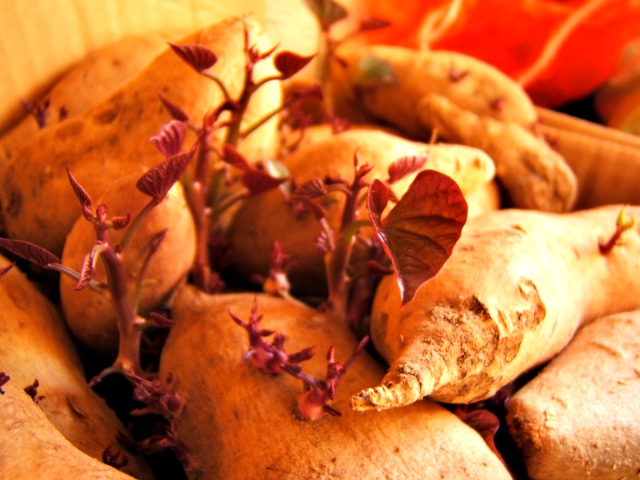 If you still haven't settled on a sweet potato recipe for Thanksgiving, the following is my favorite. I got it from my friend Rachael a couple of years ago and have made it for almost every holiday since. It's not healthy, but health is not what Thanksgiving is about!
Sweet Potato Souffle
Serves 6-8.
Ingredients:
6 small to medium sweet potatoes
1 cup sugar
½ cup milk
½ cup butter, melted
1 tsp vanilla
2 eggs, beaten
1 tsp salt
Topping:
1 cup brown sugar
1/3 cup flour
1/3 cup butter, melted
1 cup chopped pecans
Directions:
1. Boil unskinned potatoes in a large pot for 20 minutes or until tender. Drain, cool, and remove skins. (I'm always impatient and end up scalding my fingers.)
2. Preheat oven to 350 and grease a 2-quart casserole dish.
3. Beat potatoes on low until they break up. Increase to medium speed and blend until smooth.
4. Reduce speed; add all the other ingredients and mix well. Pour into a square casserole dish.
5. Prepare topping, spread as evenly as possible over potatoes, and bake for 40 minutes.
If you want to go in a more savory direction with your sweet potatoes, I highly recommend this recipe from The Crepes of Wrath. I made it a few weeks ago, and even my sweet potato-averse dad loved it!
About Brenda W.
Christian. Memphian. Reader. Writer. True blue Tiger fan. Lover of shoes, the ocean, adventure, and McAlister's iced tea.
View all posts by Brenda W. →
November 22, 2010
Posted in
fall
,
food