30 Day Journal Challenge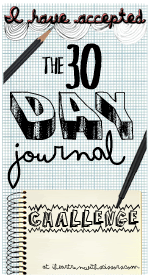 Throughout the month of June, I will be participating in the 30 Day Journal Challenge at Run With Scissors. I have a new blank book and a new pack of Papermate Flair pens ready to go. :) I've enjoyed being more creative in my thankfulness journal, so when a few friends told me they were doing this, I decided to get on board. I've never art journaled before, and I'm sure I'll miss a few days and have to make them up later. But embracing imperfection is one of my new life goals, after all.
Again, the challenge starts today, so it's not too late to join up if you're interested!
About Brenda W.
Christian. Memphian. Reader. Writer. True blue Tiger fan. Lover of shoes, the ocean, adventure, and McAlister's iced tea.
View all posts by Brenda W. →
June 1, 2011
Posted in
creative