Memory Lane: SoCal 2007 (Part 1)
I've been reminiscing about my ten-day trip to Southern California in 2007, which is still one of the best trips I've ever taken. Since this blog didn't exist back then, I thought it would be fun to share some memories!
My initial reason for going to California was an annual work conference, and it was by far our swankiest conference ever. My co-workers and I flew into LAX and then drove to Palm Springs, where the conference was held. Of course we had meetings and things, but there was a lot of time to enjoy the area too.
On the last night of the conference, we went to a dinner held in a huge, beautiful tent on a polo field. And the after-dinner entertainment? JAMES TAYLOR. !!!
The next morning, we drove back to Los Angeles. I had never been there before, other than passing through several days earlier. My co-workers headed back to Memphis, but my mom flew in and met me at the airport, and we embarked upon our own adventure!
Our first tourist stop was the Santa Monica Pier, which we thoroughly enjoyed. We explored for a while and then waited to watch the sunset over the Pacific. Unfortunately, it was FREEZING (not what I expected from California), and we huddled behind a wind break, taking turns to pop out and see if the sun was setting yet. As soon as it set, we ate at Bubba Gump's right there on the pier because we were too cold, tired, and hungry to look elsewhere.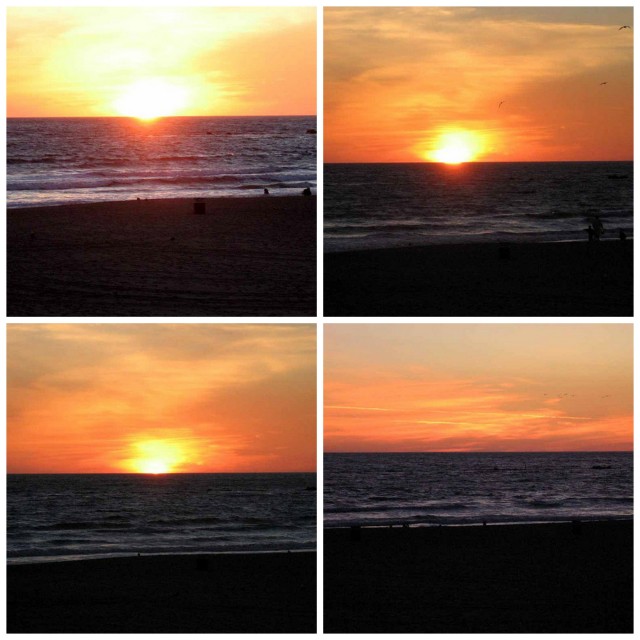 The next day, we took a bus tour of Hollywood and Bel-Air. This experience made me a huge fan of bus tours – you see and learn things you wouldn't on your own, without any of the trouble of driving and navigating. We stopped at the Hollywood Bowl, Grauman's Chinese Theatre and the Kodak Theatre, Rodeo Drive, the La Brea Tar Pits, the Walt Disney Concert Hall, and Olvera Street. We lunched at the Farmer's Market, finishing off with a jelly-roll-type Black Forest cake that I still think about and want to duplicate to this day.

Onstage at the Hollywood Bowl!!!

Now this is a story all about how my life got twist-turned upside down.
Of course, we had to conclude the day with In-N-Out Burger.
Next up: a trip to the aquarium and some slightly higher culture!
About Brenda W.
Christian. Memphian. Reader. Writer. True blue Tiger fan. Lover of shoes, the ocean, adventure, and McAlister's iced tea.
View all posts by Brenda W. →
October 13, 2011
Posted in
family
,
memory lane
,
travel