Monday Musings: Frozen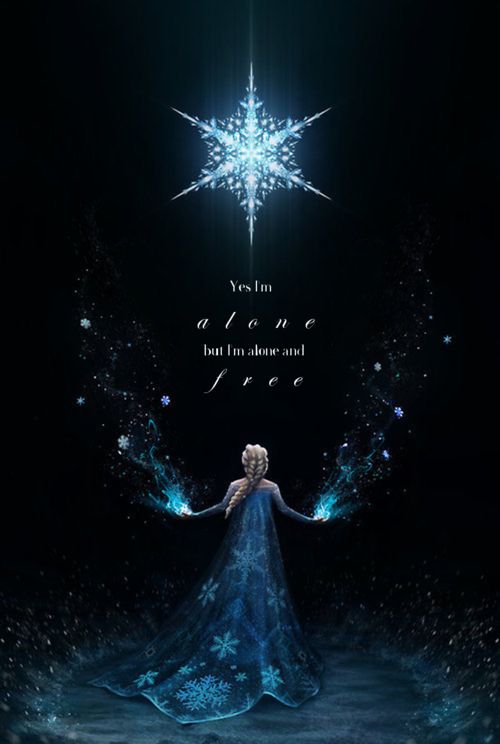 Last weekend I finally saw Frozen. I absolutely loved it. If you're unaware of the plot, Frozen is about two sisters, Elsa and Anna, who are princesses. Elsa's (unexplained) powers over snow and ice turn dangerous when she accidentally strikes Anna. As a result, she's totally isolated for the rest of her childhood, unable to control her powers and forced to keep them a secret even from her sister. When she slips up at her coronation, everyone but Anna turns on her. Elsa flees into the mountains, where she quickly embraces the freedom to use her powers and be who she really is.
Anna treks to her sister's ice palace to help her and bring her home. But Elsa turns her away, insisting, "I'm alone, but I'm alone and free."
So many themes in Frozen resonated with me, but this was the line that gave me chills (sorry). Elsa believes, understandably, that she can only be her true self in isolation – that no one will love or value her just as she is. She also believes that she's now free from the cloud of fear that's overshadowed most of her life. But these are opposing truths. As long as she's afraid to let anyone in, she is not free. What she's experiencing sure looks like freedom, but inside she's still a prisoner.
How many of us can relate to this? That's what I'm thinking about today. Discuss.
About Brenda W.
Christian. Memphian. Reader. Writer. True blue Tiger fan. Lover of shoes, the ocean, adventure, and McAlister's iced tea.
View all posts by Brenda W. →
January 27, 2014
Posted in
movies
,
reflections