January 2014 Book List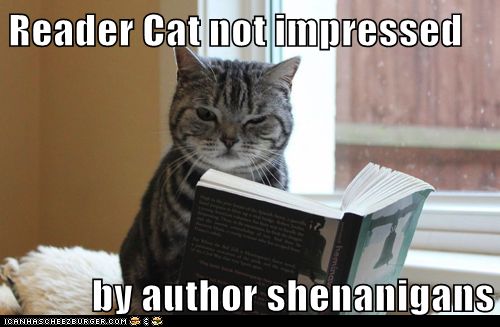 Cat Sense: How the New Feline Science Can Make You a Better Friend to Your Pet by John Bradshaw (2.5 stars)
This was a Netgalley, so a separate review is coming soon. For now, I'll say that while there was some good information here, I found the delivery very dry and repetitive.
The Here and Now by Ann Brashares (4 stars)
I reviewed this here. Note: I finished it almost three weeks ago and am still thinking about it and some of the questions it raises.
My Life Next Door by Huntley Fitzpatrick (4 stars)
For years, Samantha has been fascinated with the large Garrett family next door. Their bustling, happy home couldn't be more different from the silent mansion she lives in, with her older sister graduated and her emotionally unavailable senator mother campaigning for re-election. But then Jase Garrett appears on her balcony, and suddenly her days of spectating are over. Although Jase is pretty dreamy, this isn't just a love story. It's about family and the costs of doing the right thing.
Revelations of a Single Woman: Loving the Live I Didn't Expect by Connally Gilliam (4 stars)
A fantastic memoir/advice-type book about the struggles of "later," unintentional single life. I've never seen or heard some of these topics addressed before. The chapter about fragmentation, especially, filled me with relief that this is A Thing and not my own personal neurosis. She defines it so much better than I've been able to thus far. While her tone can be a little prim, I really admire her honesty, insightfulness, and refusal to place herself above her readers. If you want to understand what single Christians are facing today, read this!
Stitches: a handbook on meaning, hope, and repair by Anne Lamott (5 stars)
This was a great, tone-setting first book of 2014! It's not very long, but every sentence is a gem – just classic Anne Lamott talking about hope and life and stuff.
The Beginning of Everything by Robyn Schneider (4 stars)
I'm thankful Kathy gave me this novel for Christmas, because somehow, I had never heard of it. Ezra was a star athlete, class president, and general ruler of the school at the end of his junior year. Then his wrist and knee were shattered in a hit-and-run car accident. As senior year begins, he knows he can't go back to his old life, but has no idea who he's supposed to be. Then he reconnects with his less-popular childhood best friend and his fellow debate team members, including the witty and mysterious Cassidy. This is a funny, real, and profound novel with John Green overtones. It's about coming out from behind your mask and accepting who you've been all along.
Books for January/2014 year to date: 6
About Brenda W.
Christian. Memphian. Reader. Writer. True blue Tiger fan. Lover of shoes, the ocean, adventure, and McAlister's iced tea.
View all posts by Brenda W. →
February 1, 2014
Posted in
book reviews