Book Review: Cat Sense by John Bradshaw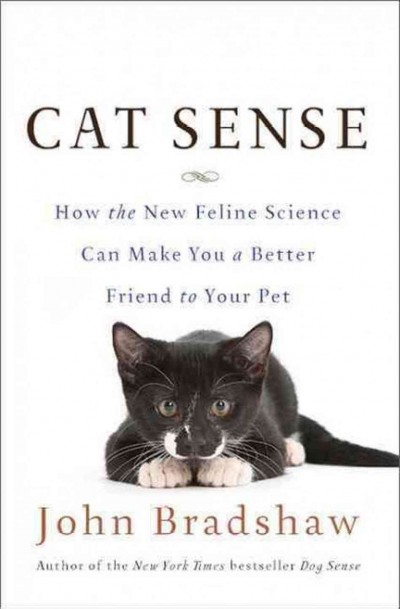 A few months ago, I had problems downloading a few Netgalleys to my Kindle. The system is working now, so I'm trying to clear a few no-longer-new titles off my dashboard. First up is Cat Sense: How the New Feline Science Can Make You A Better Friend to Your Pet by John Bradshaw. As a happy cohabitor with two cats, I was excited to learn new information about cats from this book. However, the book is geared a little more toward science and animal husbandry than an everyday understanding of our pets. Bradshaw, a British scientist, describes in depth how cats have evolved over centuries and continents, and how past societies treated them (some of this was sad to read). He explains feline societal behavior in the wild and important points in the life cycle of the cat.
For me, the biggest takeaway from Cat Sense was the lifetime impact of a cat's experiences during its first few months of life. After a certain age, it's very difficult for a cat to change its ways. My older cat, Gandalf, was part of a litter cared for by my former boss, and I brought him home when he was about six weeks old. So he wasn't exposed to or handled by a lot of people as a kitten, or with other kittens for very long. According to the book, this explains his general shyness and anxiety around strange cats. Meanwhile, I got my younger cat, Peach, from a shelter when she was over a year old. I have no idea what her kittenhood was like. She's extremely friendly and amenable to petting (having been around many people and animals at the shelter), but has some annoying nagging behaviors and hates to be picked up. She also loves to lay on my car in the garage. For years, my dad has jokingly called her "Street Cat." After reading this book, I told him, "You know what? She WAS a street cat!" (I also suspect she was separated from her mother too early.) In summary, when adopting a cat, the more you know about its history, the better.
If you're looking for funny kitty anecdotes, Cat Sense is not the book for you. It's pretty dry, and I could only handle a little at a time. Honestly, I probably would have given up on it if I wasn't reading it for review. But it does contains useful (and even eye-opening) facts, and interesting musings on the "personalities" of cats and the future of the domestic cat population.
Recommended for: Veterinary students, cat fanciers
I received this book from Netgalley in exchange for an honest review.
About Brenda W.
Christian. Memphian. Reader. Writer. True blue Tiger fan. Lover of shoes, the ocean, adventure, and McAlister's iced tea.
View all posts by Brenda W. →
February 3, 2014
Posted in
book reviews
,
cats