Alive to Change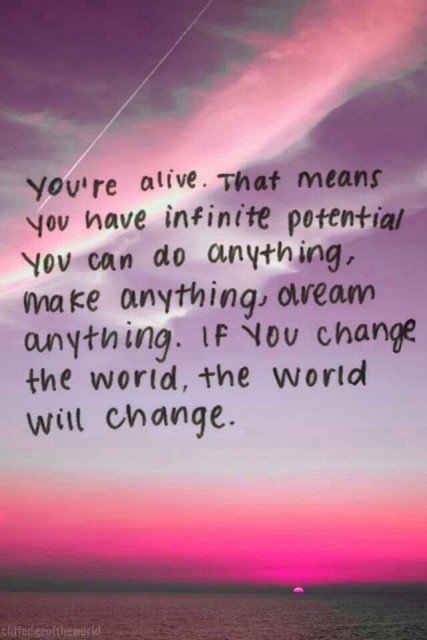 I am not a natural fan of change. As an Enneagram Type Six, I seek security, and security usually means things staying the same. When my life got turned upside down, I became a lot more flexible and open, and generally I see that as a positive development. But change continues to scare me when it comes to my opinions and spiritual life.
Somewhere deep down, I feel like REAL Christians don't budge in their perceptions about God, the Bible, or the way the world should work. I know many Christians who have happily remained in the same denomination, even the same church, for their entire lives. I admire their consistency and sort of envy the ease of living in a perfectly black and white world. But for most of my life, my beliefs and relationship with God have evolved – and never more so than in the last five or so years. The more life happens to me, the fewer pat answers I can accept, because life is complicated and messy. I'm embracing more gray areas, discovering the freedom of the words "I don't know," learning to respect differences, questioning some traditions I used to take for granted, and acknowledging that God is beyond our comprehension, bigger than any definitions we can dream up. I'm still solid on the core truths of Christianity, but because I come from a very black and white tradition, I struggle with anxiety and shame about my changing views even on small things. Or I did, until I came across this quote:
"Change means you are alive."
Alive. Not unstable, flighty, or compromised. But alive.
Alive creatures are constantly changing and being renewed, right down to our cells. The only creatures that never change are dead ones. I've said before that a questioning but alive faith seems healthier than an assured but stagnant faith. I need to start living like I believe it. Being fully alive means changing a little bit every day. That doesn't necessarily mean that every day I'm dancing one step closer to the edge. It might even mean that every day, the Holy Spirit is making me a tiny bit more like Jesus, or showing me a facet of Him that I never understood before. Change doesn't have to equal danger, at least not the destructive kind – God isn't safe, but He's good.
I have a sense that I'm moving into a time of greater change, and a few friends have observed it too. I don't know what that will look like or what's in store, but I want to put away my fear, and trust that He who makes all things new is making me new too.
This post is part of the monthly OneWord 365 linkup at The Messy Middle.
About Brenda W.
Christian. Memphian. Reader. Writer. True blue Tiger fan. Lover of shoes, the ocean, adventure, and McAlister's iced tea.
View all posts by Brenda W. →
March 18, 2014
Posted in
changes
,
faith
,
one word: alive