Book Review: I've Never Been to Vegas, but My Luggage Has by Mandy Hale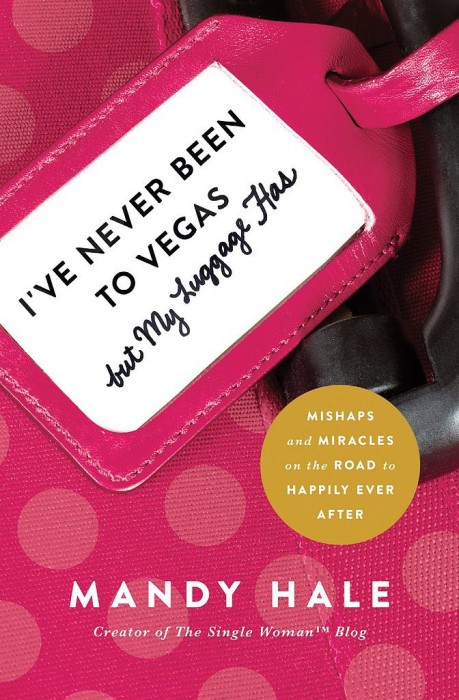 Mandy Hale has been on the scene for a while with her blog and book, The Single Woman. With her new inspirational memoir, I've Never Been to Vegas, but My Luggage Has: Mishaps and Miracles on the Road to Happily Ever After, Hale moves past doling out advice to telling the personal stories of how she learned those lessons.
A Middle Tennessee native, Hale landed her dream job at Country Music Television shortly after graduating from college. But her career took a nosedive after she had a panic attack on an airplane and subsequently missed an important awards show. In I've Never Been to Vegas, But My Luggage Has, she shares the story of the ups and downs that followed: severe depression, a renewed commitment to her faith, career reinvention, new adventures, and ultimately finding her voice as The Single Woman. Meanwhile, she experienced a live-in relationship that turned abusive (which she, admirably, doesn't sugarcoat in any way), and a five-year roller-coaster romance with a charismatic man she refers to only as Mr. E. Along with a few you can't make this stuff up anecdotes (two words: Donnie Wahlberg), the suspenseful Mr. E story intrigued me more than anything else in the book.
Hale is a likable, engaging storyteller. I'm thankful for her platform of positive empowerment for single Christian women, in a culture that's more likely to treat us as second-class and encourage us to settle. If you're not already familiar with her, I've Never Been to Vegas, But My Luggage Has is a great introduction that proves her relatability. Without knowledge of the things she's overcome and continues to struggle with, I'd have a tough time connecting with a woman my own age who has to keep making new "vision boards" because all the dreams on them keep coming true. (My wallet's too small for my twenties, and my diamond shoes are too tight!) One of Hale's mantras on her blog is, "We are all The Single Woman," and this memoir confirms that she is us.
I've Never Been to Vegas, But My Luggage Has releases tomorrow, March 11. I advise checking it out!
Recommended for: single women of all stripes; Oprah enthusiasts
About Brenda W.
Christian. Memphian. Reader. Writer. True blue Tiger fan. Lover of shoes, the ocean, adventure, and McAlister's iced tea.
View all posts by Brenda W. →
March 10, 2014
Posted in
book reviews
,
singleness