Rhapsody In (Tiger) Blue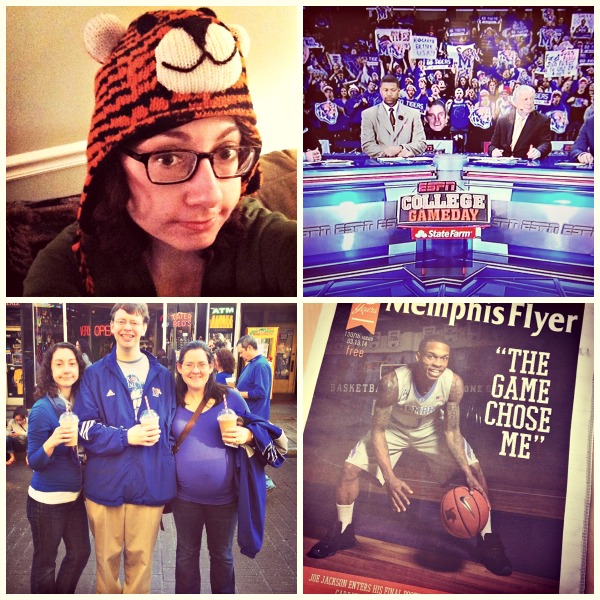 2013-14 has been one of the most memorable Tiger basketball seasons in years. When the Tigers kicked off with a painful road loss against Oklahoma State, only to beat them decisively two weeks later, we didn't realize they were setting the tempo for the entire season. Get swept by Cincinnati and UConn; beat the defending national champions twice. Come back for an awesome victory over Gonzaga on ESPN GameDay; fall apart against Houston. (Houston?!?) You never knew which Tiger team was going to show up, but that sure added to the excitement.
I've been an active Tiger fan for about fifteen years, all of them in Conference USA, where every game was a must-win to have any hope of a post-season. So it took me a while to understand that, in the American Athletic Conference, against good teams, we can now lose a game or two and stay in the top 25. Once that sank in, I decided being in a good conference is awesome! I think the Tigers would agree, despite the aforementioned losses.
It's hard to explain how much basketball means to Memphis. There's a sense of civic pride that you don't find elsewhere. Many of our best players grew up here, including Joe Jackson, who recently said he would have played for the Tigers even if "Billy Bob from Wal-Mart" was the coach. Until recently, I assumed every college fanbase was as intense as ours. Every fanbase overanalyzes every game and knows all the players' life stories and can call a travel in like 0.2 seconds. Right? But in all of our televised games this season – even the away ones – the announcers have mentioned how passionate we are. The SEC is religious about their football. They can have it. We'll take basketball.
For Christmas, my parents gave me a knitted tiger hat from Etsy (pictured above). I love it and have worn it on the cold walks to and from the Forum every home game since. During our first game against Louisville, when things weren't going so well, I took out the hat and put it on. The Tigers rallied and won. When we were down against Gonzaga with only a few minutes to go, I put on the hat with the same result. So you better believe that hat will be on my head at 5:55 this evening. Win or lose, I'm proud of my team and especially the seniors who have given us a spectacular four years. TIGER FOR LIFE. GO TIGERS GO!!!
About Brenda W.
Christian. Memphian. Reader. Writer. True blue Tiger fan. Lover of shoes, the ocean, adventure, and McAlister's iced tea.
View all posts by Brenda W. →
March 21, 2014
Posted in
tigers