The Blessing of Failure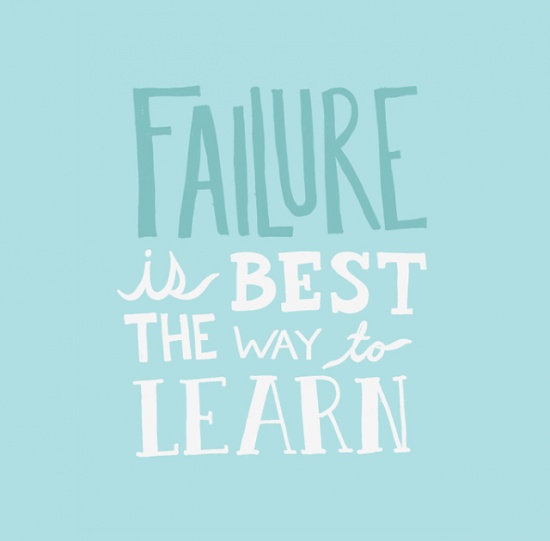 Like Anna in Frozen, much of my adulthood has been a series of doors in my face. Apparently God's personal plan for me revolves around learning to deal graciously with disappointment and failure. For most of my life, the fear of failure kept me locked inside myself. If I wasn't confident of a good result, I usually didn't try. Now I understand that you have to try, because it expands you and makes you stronger and braver. You have to ask for what you want, because if you don't, no one will know. You have to love, even if it breaks your heart. I continue to put myself out there, to keep my dreams alive, because I believe it's the healthiest move regardless of the outcome. But I've stopped expecting success. I carry the knowledge that anything is possible right alongside a long history of things that didn't work out.
If you read any of that in a mental Eeyore voice, you'd be wrong. When I say that probably nothing will come of an opportunity, I'm simply stating a fact from many years of banging my head against brick walls. Sure, sometimes I get angry or feel sorry for myself… even though I'm already more privileged than most of the world. It's easy to lose perspective when I feel surrounded by charismatic (or just well-connected) people who seem to live charmed lives. It's especially frustrating when they attribute it all to "God's favor," making you wonder if you were in the bathroom when that was being handed out. Or when people assure you that God is just waiting for the right time to open doors for you, even though He never promised us that. But I'm slowly making peace with my struggles. Sometimes I'm even thankful for them.
My whole upbringing was pointed toward becoming a wife and mother. I foolishly made zero preparations for a long-term fulfilling career, extensive living alone, or being single at 34. So after my marriage chewed me up and spit me out, I prayed, Okay God, You'll just have to give me the tools to do this. I actually imagined myself under a car and God handing me wrenches and ratchets one at a time, a picture that continues to stick with me. And you know what? He's still doing it. Lately I feel extra capable, like whatever happens, I can handle it. That's a gift that the life I wanted would not have given me… along with other gifts, like increased compassion, more humility, the ability to see and validate others for whom the big things don't come easily. Standing as proof to people with similar wounds that you can survive. Learning to trust God differently. Participating in Jesus's suffering, in a tiny way, and relating to Him better through it.
We call people blessed when they marry well, bring children into their families, go on that big trip, get the dream job, get the book deal. I may never have any of those things, but when I reflect on what I do have, I still feel blessed. I really do. My blessings aren't happy fun ones, but they're transforming me for the better day by day. Though it would be tempting, I don't think I'd trade where I am now for where I'd be if I'd never had to wait or fight for anything. I don't think God has abandoned or "disfavored" me. He's just called me to a different sort of path, and He'll keep handing me the tools I need to walk it.
About Brenda W.
Christian. Memphian. Reader. Writer. True blue Tiger fan. Lover of shoes, the ocean, adventure, and McAlister's iced tea.
View all posts by Brenda W. →
March 13, 2014
Posted in
faith
,
hope
,
imperfection