About That HIMYM Finale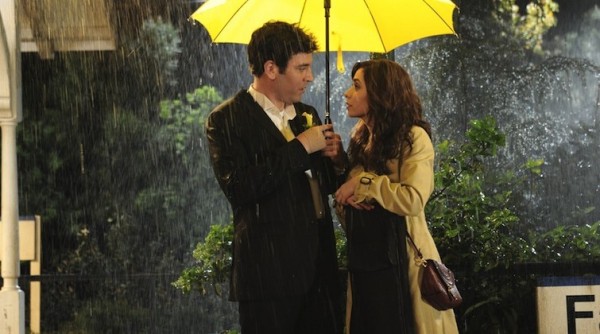 I realize that the finale of How I Met Your Mother aired over a week ago, and most people with anything to say about it have done so by now. It's taken me so long to sort out my reactions that I thought it was too late to post about it, but friends are still asking what I thought, so let's go for it!

WARNING: The following will completely spoil the ending of How I Met Your Mother. If you don't want to know, don't continue reading!
Things I Liked About the Finale:
– Ted was happy in the end… even though he lost his soul mate much too soon.
– Lily and Marshall are still awesome.
– The first meeting under the yellow umbrella was perfect.
Things I Hated About the Finale:
– So this was the ending the writers had planned from the beginning, had filmed with the kids eight years ago. The Mother (Tracy) dies, and Ted still ends up with Robin. What I find unforgivable is that, KNOWING this, they developed the plot and characters totally contrary to this plan for the last five or so seasons. They showed Ted and Robin growing in opposite directions, and him "letting her go" over and over again, finally for real. They convinced us that Barney and Robin made sense. They let us get to know Tracy and showed us how completely perfect she was for Ted. Then they turned around and gave us the final slap, but it never had to be that way. More thoughts about that in a minute.
– WHY would you set an entire season at a wedding for a marriage that lasted ten minutes in show-time… then cram another twenty years' worth of important events into one episode? If they'd given us a little more time to get used to the endgame, it might not have been such a blow, or felt like such a betrayal of Tracy, who was seemingly reduced to a speedbump and egg donor on the way to Ted finally getting Robin. I really loved Tracy and wish we could have seen more of her and Ted together, although we did get some good moments.
– By the end of the show's timeline, Robin had spent years estranged from the gang. How were she and Ted still close enough for him to start a relationship with her? How did his kids even know her well enough to call her "Aunt"?
– I hated what they did to Barney. After being redeemed as more than a one-note womanizer, he regressed to a nauseating degree. The only thing that finally settled him down was unexpectedly becoming a father. (To me, this also felt like a subtle jab at Robin, since she's infertile and a child was the one thing she couldn't give him. But they could have adopted!) Also, I guess we can assume "#31" is the main character of How I Met Your Dad? I don't plan to tune in.
– I watched the show with my dad, and at every commercial break, I expressed disbelief about how depressingly it was unfolding. He shrugged and said "It's the truth. This is how life is." He was right. As I said in my plea for the mother, real life is already overfull of painful divorces and close friends drifting apart and losing loved ones too soon. Most of us have lived it, and we don't want to see those everyday tragedies on a comedy that we watch to feel uplifted and hopeful. We want help believing that something better is possible, not more fodder for our cynicism.
– Finally: from a writing perspective, I think this jarring ending is a cautionary tale about listening to your story. Over the years, How I Met Your Mother took a slightly different track from the writers' original vision, and they should have rolled with it. I can't remember the source because I've read so many articles about the finale, but one pointed out that a story – especially a long-running one on TV – is a living thing. Anyone who's ever written fiction knows this. You have to give your story some room to breathe and be open to turns you weren't expecting. When they filmed that final "Go ask out Aunt Robin" scene with the kids years ago, why didn't they film a few different ones, just in case they changed their minds? To me, that's irresponsible. There's nothing admirable about staying the course if it means totally invalidating most of what you've built. It's also not cool to pull a Lost and spend years vehemently insisting that a show is not going to end a certain way, then end it exactly that way.
It's been a long time since I watched the early episodes, so I may go back and see how they bookend with the finale. Maybe then I won't feel so double-crossed.
About Brenda W.
Christian. Memphian. Reader. Writer. True blue Tiger fan. Lover of shoes, the ocean, adventure, and McAlister's iced tea.
View all posts by Brenda W. →
April 8, 2014
Posted in
reflections
,
tv