Book Review: Better Off Friends by Elizabeth Eulberg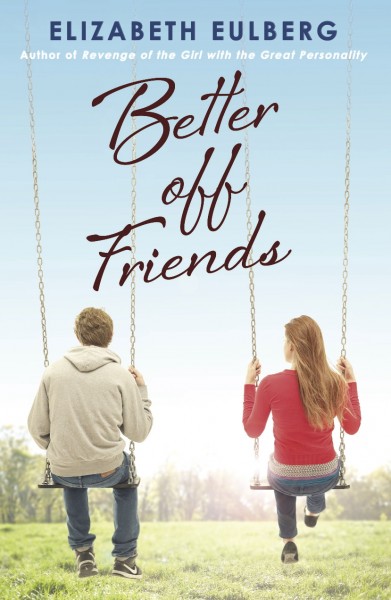 I've always loved stories about guy and girl best friends and whether or not they'll become more, so I scooped up Better Off Friends by Elizabeth Eulberg. (This was my first Eulberg book, but her other titles are intriguing!) When Levi moves from California to Wisconsin in the middle of seventh grade, his classmate Macallan is the first person he meets. Macallan is still recovering from the loss of her mom in a car accident, and, though pretty and well-liked, is a little bit of an outsider. Levi's surfer cool sticks out like a sore thumb in a sea of Midwestern jocks, so Macallan takes him under her wing. Before long, they're inseparable – almost like family. Better Off Friends follows their friendship through the ups and downs of middle school and high school, as they repeatedly wonder whether they should take their bond to the next level or they're better off… you know.
I didn't expect this book to skew so young (how about reading the summary more carefully, Brenda?). But Macallan and Levi are pretty mature for their ages and have some mature problems too. This is a believable story with well-rounded, likable characters, true-life issues, and lots of witty banter (I laughed out loud at some of it). If I'd read Better Off Friends in middle or high school, I would have absolutely loved it. But I think it's still enjoyable at any age.
Recommended for: teen readers; fans of friendship-based love stories
I received this book from Netgalley in exchange for an honest review.
About Brenda W.
Christian. Memphian. Reader. Writer. True blue Tiger fan. Lover of shoes, the ocean, adventure, and McAlister's iced tea.
View all posts by Brenda W. →
April 17, 2014
Posted in
book reviews