Good Friday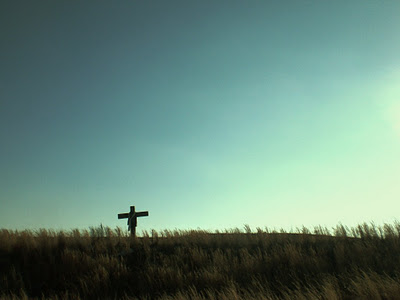 I could never myself believe in God, if it were not for the cross. The only God I believe in is the One Nietzsche ridiculed as "God on the cross." In the real world of pain, how could one worship a God who was immune to it? I have entered many Buddhist temples in different Asian countries and stood respectfully before the statue of the Buddha, his legs crossed, arms folded, eyes closed, the ghost of a smile playing round his mouth, a remote look on his face, detached from the agonies of the world. But each time after a while I have had to turn away. And in imagination I have turned instead to that lonely, twisted, tortured figure on the cross, nails through hands and feet, back lacerated, limbs wrenched, brow bleeding from thorn-pricks, mouth dry and intolerably thirsty, plunged in Godforsaken darkness. That is the God for me! He laid aside his immunity to pain. He entered our world of flesh and blood, tears and death. He suffered for us.
– John Stott, quoted in Bread and Wine: Readings for Lent and Easter
Calvary is judo. The enemy's own power is used to defeat him… It is, of course, the most familiar, the most often-told story in the world. Yet it is also the strangest, and it has never lost its strangeness, its awe, and will not even in eternity, where angels tremble to gaze at things we yawn at. And however strange, it is the only key that fits the lock of our tortured lives and needs. We needed a surgeon, he came and reached into our wounds with bloody hands. He didn't give us a placebo or a pill or good advice. He gave us himself.
– Peter Kreeft, quoted in Bread and Wine: Readings for Lent and Easter

About Brenda W.
Christian. Memphian. Reader. Writer. True blue Tiger fan. Lover of shoes, the ocean, adventure, and McAlister's iced tea.
View all posts by Brenda W. →
April 18, 2014
Posted in
faith
,
quotes