What I'm Into: April 2014
General Highlights:
In April, I: got to see my teen-years BFF, Amy, who was visiting from Seattle. Found out my friend Caroline is expecting a long-awaited baby! Was randomly in a miniature golf commercial while there with my work group for a team building activity (the commercial is airing on Channel 5, but I haven't seen it yet). Took my cats to the vet for checkups and got a good report – Peach is at a healthy weight! Met my friend MaryElaine's new baby boy. Started volunteering at our local public radio station (more on this later, probably). Went to a Bread & Wine book club discussion. Successfully shot a bow for the first time. Enjoyed my first Food Truck Friday at the Dixon Gallery & Gardens with co-workers. Soaked up Holy Week and Easter. Attended my brother-in-law's ordination and my friend Myla's debut concert at the historic Levitt Shell. Upon reflection, it was a pretty big month!
Read and Reading:
Kind of a light reading month. The monthly book list will be up tomorrow!
TV/Movies: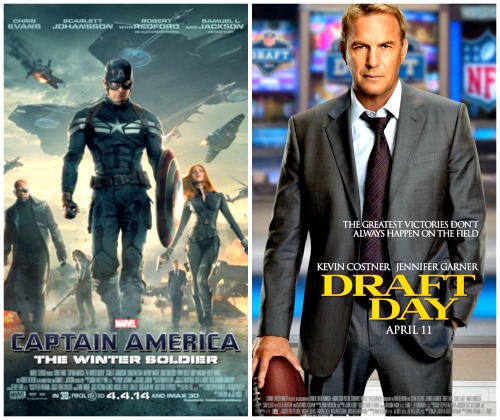 My dad and I saw Captain America: The Winter Soldier. IT WAS AWESOME. (See also EW's great piece on this movie and our current political climate.) We also enjoyed Draft Day, which joins Moneyball and The Social Network on my list of Best Movies That Are Mostly People Talking In A Room. Oh and my mom insisted we see God's Not Dead over Easter weekend. It was better than I expected, though my brother and I were still shaking our heads over certain scenes days later.
Music: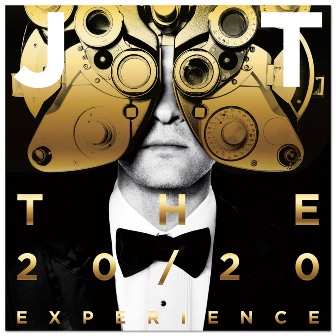 I finally purchased the second half of Justin Timberlake's 20/20 Experience. It's even better than Part 1, and "Not A Bad Thing" has been my favorite song this month. Nickel Creek, Ingrid Michaelson, and NEEDTOBREATHE all released new albums in April, but I haven't bought them yet.
Cooking: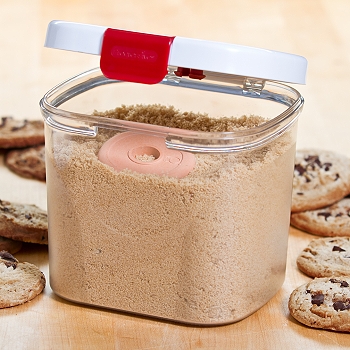 Image via pastrychef.com
This brown sugar keeper was on a friend's birthday list, and I thought it was so cool I had to get one for myself! Much more convenient than putting mini-marshmallows in the brown sugar and then having to fish them out.
Wearing:
In my search for an Easter dress, a friend directed me to Belk, which we don't have in Memphis. I fell hard for the entire Cynthia Rowley collection. As in, I seriously considered driving to Nashville just to try things on. It was for the best that I didn't, because we went to Belk last weekend in Dothan, and they had everything for 70% off!! I came home with this navy and white striped skirt (which instantly became one of the best pieces in my closet) and this gorgeous printed yellow dress.
Even at Ross, this bright Jessica Simpson purse was kind of a splurge. But I loved the color, the cutouts, and the pockets for everything I need! Unfortunately, the extra crossbody strap snapped off mere days later. So much for investing in "quality." I thought about returning it, but I really like the bag and can fit the handles over my shoulder. If I need the longer strap later, maybe a shoe repair person can fix it.
Beauty:
I can't remember where I read about these Revlon balm stains, but they're everything I look for in a lip color: easy to apply, not drying, and fairly long-lasting. I chose Adore (red) and Rendezvous (orange), and they're both flattering to my warm skin tone.
Travel:
I just got back from Alabama (and am returning shortly for my niece's birthday party), with a side trip to the Florida coast!
On The Blog:
This month I griped about the finale of How I Met Your Mother; discussed the importance of touch and quality; noted my progress with my One Word, Alive; rejoiced in springtime and Easter; and talked about the NCAA South Regional!
Posts I Loved:
Emily Freeman: What Happens In Our Fields of Gold
Jody Casella: A Brief Rant About School Testing
Something I've thought about too: Jamie The Very Worst Missionary: I Worry For The Mommy Bloggers
Little Did She Know: Traveling The Oregon Trail
Myla Smith: Holy Week
BRILLIANT: Jayson Bradley: Making Room In Church For Your Ideological Enemies
Amber Wackford: Lesson From A Virus
Danielle Carey: Digging
Elisabeth Klein: Staying or Leaving: Both Take Courage. (Related: I'm still thinking about this awesome Glennon Melton tweet.)
Head on over to Leigh's and link up!
About Brenda W.
Christian. Memphian. Reader. Writer. True blue Tiger fan. Lover of shoes, the ocean, adventure, and McAlister's iced tea.
View all posts by Brenda W. →
April 30, 2014
Posted in
what i'm into