May 2014 Book List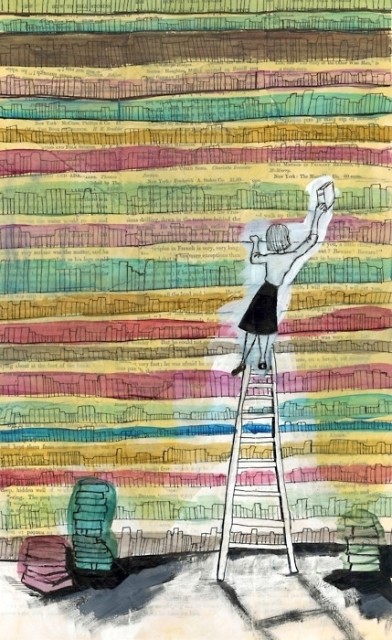 The Moon and More by Sarah Dessen (4 stars)
Set in the fictional beach town of Colby, NC (also seen in Along For The Ride), The Moon and More follows Emaline through the summer between her high school graduation and heading off to college. Emaline has a lot to sort out: the sudden collapse of her three-year relationship with Luke; worrying about her aimless best friend Morris; and the sudden appearance of her estranged father and half-brother. After coaching her through the college applications process and promising to send her to any school she wanted, her father re-neged on the deal and she still doesn't know why. All the while, she works at her family's realty company, and gets more than she bargained for when a summer tenant sucks her into the making of a documentary AND a new romance. Dessen's books always involve lovable characters and situations that feel true, but The Moon and More is her best work since This Lullaby. I loved it.
Let's All Be Brave: Living Life with Everything You Have by Annie F. Downs (4 stars)
I'm reviewing this for Netgalley, so a post about it is forthcoming.
Invitation to Tears: A Guide to Grieving Well by Jonalyn Fincher and Aubrie Hills (5 stars)
I reviewed this here!
Second Chance Summer by Morgan Matson (4 stars)
All of Taylor's childhood summers were spent at her family's lake house with her best friend Lucy and her eventual first love, Henry. But five years ago, something went wrong between them, and she hasn't been back since. Now, her dying father wants the family to spend their last summer together at the lake. As she struggles to deal with the impending loss of her dad, Taylor also finds healing and forgiveness that she never expected. This book is a tearjerker for sure, but there's a lot of beauty in it too.
Flat-Out Celeste by Jessica Park (4 stars)
I knew this book was on the way, but I was happily surprised to see it live on Amazon this week, and read it in a day! Several years after the events of Flat-Out Love, Matt's sister Celeste is now eighteen and as smart and quirky as ever. On the surface, she's come a long way since her days of carrying a cardboard cutout of her brother. But her peers reject her and don't understand her odd personality. Preparing to choose a college, she falls into a correspondence with Justin, who handles student relations at a small school in San Diego. As their relationship grows, she starts to hope for the first time that someone can love her for her true self. Meanwhile, there's also the problem of Matt and Julie, who broke up two years ago (waaah!) but still clearly love each other. Maybe Celeste can save her brother's future happiness in the process of finding her own.
The Probability of Miracles by Wendy Wunder (4 stars)
Sixteen-year-old Cam, raised as a performer in the Polynesian show at Disney World, has cancer and only a few months to live. As a last-ditch effort, her mother hauls Cam and her younger half-sister to Promise, Maine, a town where miracles are said to happen. As the town's magic slowly captures them all, Cam gains enough hope to really live what's left of her life, even if she may not have a tomorrow. Sounds like a bummer of a plot, but it's surprisingly funny and whimsical. If you loved The Fault In Our Stars, you'll like this.
Books for May: 6
2014 year to date: 27
About Brenda W.
Christian. Memphian. Reader. Writer. True blue Tiger fan. Lover of shoes, the ocean, adventure, and McAlister's iced tea.
View all posts by Brenda W. →
May 31, 2014
Posted in
book reviews