That Time I Told eHarmony to Shove It (Part 1)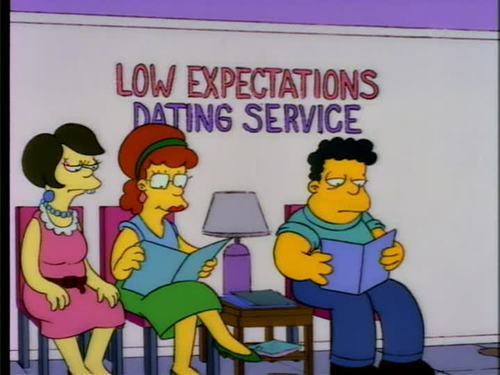 Before we begin, you should know that I've been sitting on this post for years. Every time I try to write about dating, it turns into a rant about online dating, which I delete and try to forget about. This week I realized it's not going to leave me alone until I let it loose. I talk a big talk about daring greatly and writing my truths, and it's time to walk the walk.
Most single adults in America have been hassled to try online dating. For some reason, coupled people of all ages see it as the only plausible way for their loved ones to find romantic partners. You can tell these people a hundred online dating horror stories, but they'll shrug them all off because their friend's co-worker met her husband that way. They don't care about your reasoned, thoughtful, personal objections. Online dating is the answer. It will provide your perfect match, reverse global warming, and cure cancer. It is the fairy godmother of your nonexistent love life, and if you choose not to partake of its magic, you have only yourself to blame.
I signed up for eHarmony in the summer of 2012. I had been divorced for two years and, unlike every other divorced person I knew, still hadn't dated at all. Nor did I have any single male presence in my life. I just wanted to learn to interact with men again, to see some hope, and it wasn't happening naturally. So, with trepidation and a little shame, I filled out my first ever online dating profile for the shortest allowable term: three months. I limited my radius to about a three-hour drive, because this was going to be tough enough without the added complications of long distance with a total stranger. Even so, I wasn't expecting perfection, or to find my soul mate. I just wanted to feel excited about getting to know someone, and hopeful that I could someday have a good relationship. I was willing to try.
Well, most of my local matches' profiles featured bicep-flexing bathroom-mirror selfies, or posing next to dead deer or fish, accompanied by a few fragmented, misspelled sentences. Still, admonished by others to give people a chance and not make "shallow judgments," I went through the lengthy, automated getting-to-know-you process again and again. The results were all flavors of weird and uncomfortable. One match stated in his profile that God had placed a very important calling on his life and whomever he was with would have to be on board. I asked him to tell me more about this calling, imagining missions in the Congo or something. It was to create a Christian video game. Then he offered to tell me about the New World Order and the approaching end times, of which he had special revelation. (Months later, I found out that a friend was also matched with this guy and actually went on a date with him.)
Many other matches self-importantly stressed their requirements for a "Proverbs 31 woman" and/or a "helpmeet" to support their endeavors. DELETED!
So it's no wonder that, even though it wasn't what I wanted, I caved to eHarmony's aggressive "suggestions" to expand my radius. I had some okay e-mail conversations with faraway men, but nothing outstanding. Eventually, I was only talking to one guy, who lived in Florida. We started talking on the phone. Then he wanted to visit, and got annoyed that I wasn't available right away. He was nice, but the whole time, I felt unbelievable pressure to develop feelings that just weren't there. Like I owed it to him, people in my life, even eHarmony itself to go along with it regardless of my hesitations. After about six weeks, stressed out and unhappy, I broke it off. I had confirmed that a manufactured relationship with a total stranger, especially long-distance, wasn't something I could do.
My online dating experience resulted in zero actual dates, and I ended up worse off emotionally and relationally than when I started. To add insult to injury, I forgot to actively cancel my account and ended up with three more months when I just wanted to be free of the whole thing. I mostly ignored my profile from then on and deleted it as soon as the term was up.
It's been two years, and sometimes I think about trying again with a different dating service. But honestly, I think it would still be miserable for me. Like it or not, I am a quality-over-quantity girl. I'd rather keep holding out for a real live man, an organic connection, than waste time and energy looking for a mate in a vacuum. If that makes me narrow-minded, or too picky, or not submissive to God's leading, well, I guess that's what I am. But even if I die alone, I will do so at peace with myself.
I'll get into some generalized concerns and complaints about online dating in Part 2. But it felt right to tell my story first.
PS: I'm not against meeting someone online "in the wild." In that case, something drew you to one another as people, in a context free of instant expectations.
About Brenda W.
Christian. Memphian. Reader. Writer. True blue Tiger fan. Lover of shoes, the ocean, adventure, and McAlister's iced tea.
View all posts by Brenda W. →
May 9, 2014
Posted in
dating
,
reflections
,
singleness