TotalSocial Linkup: Firsts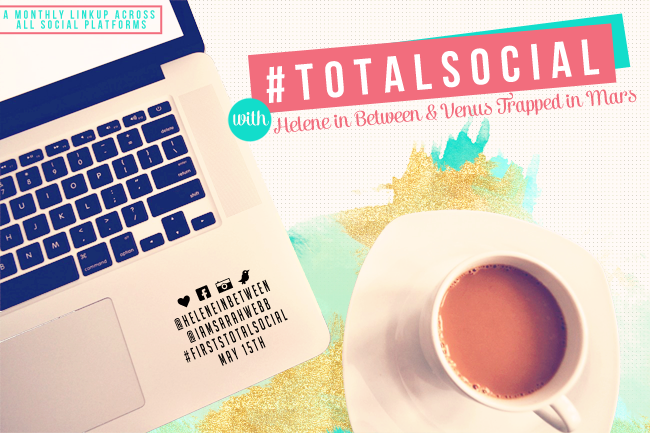 Venus Trapped in Mars is doing a TotalSocial linkup today, and the topic is Firsts. My originally planned post has been delayed, and this seemed like fun, so I thought hey, why not? Plus, Karen's doing it. :)
First movie seen in the theater: The first movie I can remember seeing is Return of the Jedi. I was scared of Jabba the Hutt and hid behind my blankie whenever he came on screen.
First professional sporting event: My parents took me to a Miami Dolphins game when I was a few months old. And thus I embarked upon the rough life of a Dolphins fan.
First best friend: Kristi and I were in the same kindergarten class. I moved away after fourth grade, but I'm happy to say we're still friends. I see her whenever I'm in Miami. Her kids are now older than we were when we met!
First bicycle: It was a purple one-speed with a rainbow banana seat, decorated in a unicorn motif. I also had a "Miami Miss" Big Wheel which was turquoise and hot pink (the unofficial color palette of Miami in the 80s).
First literary obsession: I was equally obsessed with Beverly Cleary's Ramona books, and The Baby-Sitters Club.
First date: My first boyfriend took me ice skating at the Mall of Memphis right before Christmas during our freshman year of high school. While there, he gave me a my Christmas present, a stuffed orca whale (I was crazy for marine mammals). It was really sweet. The mall was torn down a few years ago, but I still have the whale.
First album I ever bought for myself: Debbie Gibson, Out of the Blue. 1988. Confession: I still know all the words.
First concert: Michael W. Smith and DC Talk, 1993.
First international trip destination: Madrid, Spain. It was the first stop on my trip to Europe when I was fifteen.
First "real" job: I worked at the Hallmark in the mall during my senior year of high school and then off and on in college. I enjoyed it and learned many life lessons there, one being that some grown women will cut you over Beanie Babies or Cherished Teddies.
First car: A 1984 Toyota Camry with a sunroof. It was a great car and I still think of it fondly. Years later, the whole undercarriage fell apart while my dad was driving it downtown.
First roommate: I didn't know anyone moving into the dorms at U of M, and I was assigned an… eccentric roommate. She was smart and friendly, but she also frequently locked me out to have guys over (among other things), which got old pretty quickly. After one semester I moved in with my suitemate, Kathy. We went on to live together for seven more years and she remains one of my BFFs.
First home of my own: Several months after graduating from college, I moved into an old but full-of-character(s) apartment complex near campus. First I lived there alone, then with Kathy, and then with my ex-husband. Many of my most important life events happened in that apartment (literally; my ex proposed in the living room) and I'll always be sentimental about it.
First day as a blogger: April 15, 2010
First tweet: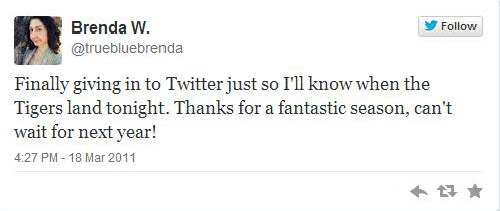 Yes, I joined Twitter to follow the Tigers. I wouldn't have it any other way.
About Brenda W.
Christian. Memphian. Reader. Writer. True blue Tiger fan. Lover of shoes, the ocean, adventure, and McAlister's iced tea.
View all posts by Brenda W. →
May 15, 2014
Posted in
linkup
,
memory lane