Book Review: Let's All Be Brave by Annie F. Downs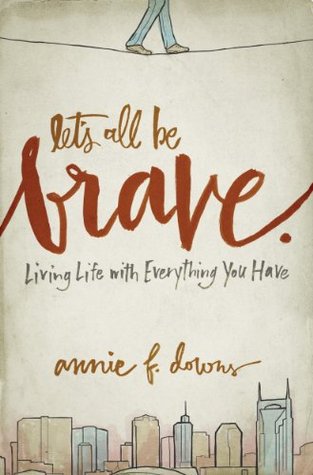 Annie Downs is the author of several Bible studies for teenage and college girls, most recently Speak Love: Making Your Words Matter. Her latest work, Let's All Be Brave: Living Life with Everything You Have, is a challenge to people of all ages to live courageously right where we are.
Let's All Be Brave is primarily a memoir. After college, Downs left her hometown and a secure job for Nashville – a city where she knew no one – purely because she felt God was asking her to do so. Later she moved to Scotland to do ministry, expecting to stay there permanently. But again, she felt a pull back to Nashville. If she'd concluded her story with "And God wants us all to go into ministry and move to foreign countries," she would have lost me. Instead, she reiterates throughout the book that there are many ways to be brave, and your ways don't have to look like anyone else's. Small, daily acts of bravery are powerful both in themselves and as stepping stones to even greater works that God wants to do in and through your life. Do the next brave thing, and you may be surprised by where it takes you. I've seen this philosophy play out in my own life, and I support it!
Downs's casual, lighthearted writing style shows why she's popular with youth. But she can also be painfully honest. I was especially grateful for her section about bravery in singleness, after she avoided writing about singleness for many years. We Christian women in our 30s need more strong voices in this area.
If you need encouragement and/or a gentle kick in the pants, I recommend Let's All Be Brave. It'll be available on July 29, and if you pre-order the Kindle version now, you can get it for $4.27!
I received this book from Netgalley in exchange for an honest review.
About Brenda W.
Christian. Memphian. Reader. Writer. True blue Tiger fan. Lover of shoes, the ocean, adventure, and McAlister's iced tea.
View all posts by Brenda W. →
June 9, 2014
Posted in
book reviews