Alive in Disappointment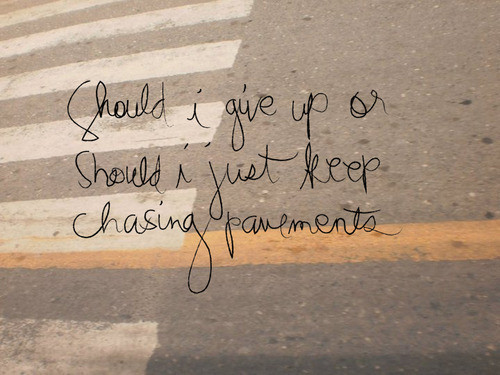 So what we are saying is this: you have no guarantees, but dream anyway. You will hurt more if it doesn't work out, but your laugh will have a more rapt quality to it. You'll feel the sting, but your face will glisten with the fresh dew of presence. You will love more, you will feel the air in your lungs, you will feel boulders of sadness on your heart, but you'll be alive. And you'll be okay. Saint Bartholomew said, "Many of us spend our whole lives running from feeling with the mistaken belief that you cannot bear the pain. But you have already borne the pain; what you have not done is feel all you are beyond the pain." Exactly. Jesus did not say, "I will rescue you out of your disappointing world." He did say, "The thief comes to steal and destroy, but I have come that you would have life and have it abundantly" (John 10:10).
– Jan Meyers Proett, Beauty and the Bitch: Grace for the Worst in Me
What did he have to mope about, really? What more did he want? Love, he could hear Eve saying. Purpose. Love. Purpose. Those are the things that you can't plan for. Those are the things that just happen. And what if they don't happen? Do you spend your whole life pining for them? Waiting to be happy?
– Rainbow Rowell, Attachments
I am trying to remain fully alive to my hopes and dreams without losing my mind. It's harder than you would think. I've been wondering how many times, how many years, you can bear unfulfilled hopes before their weight starts to crush you. How do you keep affirming them without bitterness creeping into your heart? How do you create a steady baseline of joy that's not dependent on anything changing for the better?
I need to be reminded again and again that having an open, alive heart means that you will get hurt. You'll be disappointed and make mistakes. You will crash and burn. Sometimes you won't know why it happened or what you're supposed to learn from it. You'll be freshly reminded of what you're missing. You may need time to pick yourself up again. That doesn't mean you've failed. It means you took a brave risk, and you'll be a more complete person because of it. To quote another Rainbow Rowell novel, "I look like this because I'm alive. Because I've had experiences." Having experiences often leaves us worse for wear, but in some mysterious way, it brings us closer to the abundant life Jesus talked about.
I feel restless, itchy for positive change and hopes fulfilled, and I still believe I must be somehow on the brink. I've heard many women say that late in labor, there's a moment when you feel like you just cannot do it anymore, and that means the baby is about to be born. I've believed myself at a similar point many times before. History shows that I have always been wrong. But this time, something is about to be born. There's too much electricity built up in me. It has to go somewhere.
*** This post is part of a monthly OneWord 365 linkup at The Messy Middle.
You can also check out my Alive Pinterest board. ***
About Brenda W.
Christian. Memphian. Reader. Writer. True blue Tiger fan. Lover of shoes, the ocean, adventure, and McAlister's iced tea.
View all posts by Brenda W. →
July 22, 2014
Posted in
hope
,
one word: alive