Elegy For A Black Cat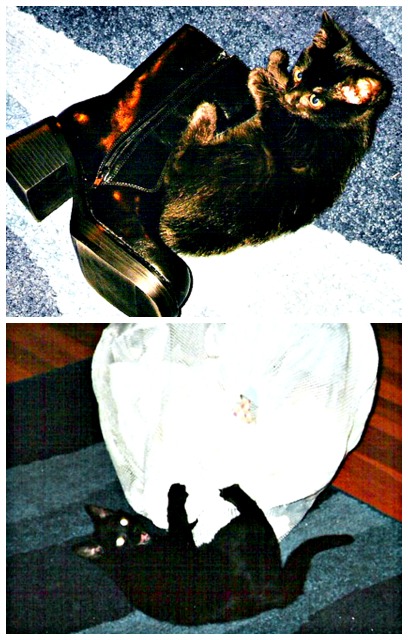 In the fall of 2002, my then-boss took in a stray, pregnant cat. When the four kittens were born, she offered one to me and Kathy, my roommate of five years. I'd never had a cat before, or any pet larger than a rabbit, but Kathy and I talked about it and decided we liked the idea. My boss told me the kittens were dark gray. Kathy and I, fresh off our first reading of Lord of the Rings, decided a cat named Gandalf the Gray would be the coolest thing ever. By the time we went over to choose a kitten and saw that they were actually black, it was too late. His name was already Gandalf.
I brought Gandalf home to the apartment on a pleasant October evening. He was old enough to leave his mother, but still tiny enough to hold in my palm. I had to do laundry that night, and worried about leaving him alone even long enough to run to the washing machine. But he adjusted quickly. By the end of the week, he was wrestling with us and acting like he owned the place. (Later, when his propensity to bite became a problem, we learned you're not supposed to use your hand as a kitten toy. What did we know?)
I was surprised at how much joy a cat brought to my life. He wasn't super affectionate in his early years, but he was hilarious. He loved to stand to the side of the doorway that connected the bedrooms with the main living area, pounce on us when we walked through, wave his paws, then trot off clearly pleased with himself. He also perched on the high bathroom window while I showered, right where the steam leaked out around the curtain. When I turned the water off, his purring was deafening.

Kathy and I both got married in 2004. We'd long had a deal that whoever married first forfeited the cat. She beat me by five months, and her now-husband was weary of cats anyway, so everything worked out. I kept the apartment and Gandalf, who was friendlier by now, but still had a low tolerance for togetherness. So in 2006, my ex and I decided we needed a very affectionate second cat to socialize him. Enter Peach.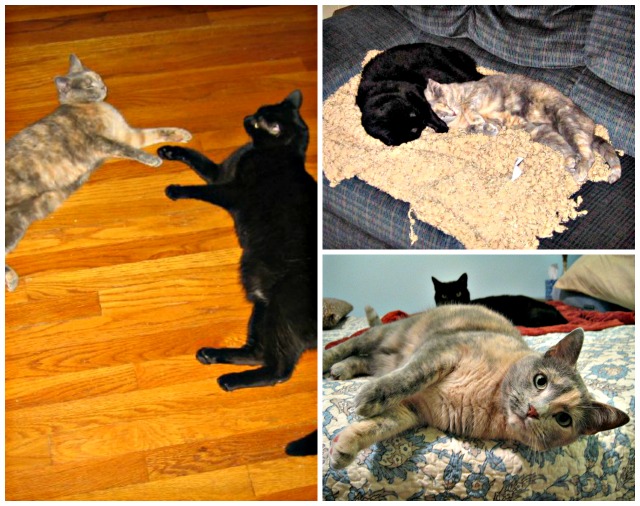 At first I was afraid I had ruined Gandalf's life, but in time he and Peach grew to tolerate and even enjoy each other. More importantly, the plan worked, and continued to work after we moved to my current house in 2006. Gandalf remained skittish around strangers, but became much more affectionate with me, more tolerant of friends and family who were at the house a lot. Everyone but me had to present their hands, palm turned in, for him to smell. If he bowed his head after smelling, they were permitted to pet him (briefly). If not, they had to back off. Because of this ritual, my sister called him "Sultan" (although "Buckbeak" would have been more appropriate.)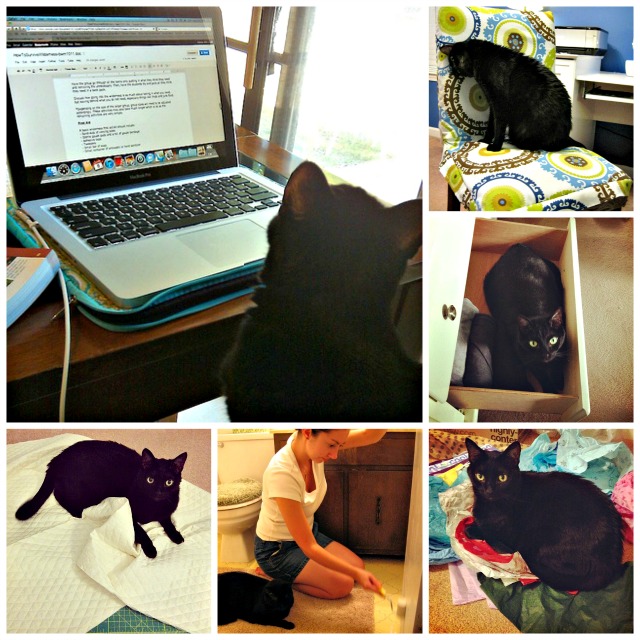 As Gandalf got older, he became a wonderful companion. He followed me around the house, slept next to me every night, loved to "help" with house projects and craft projects, and kept me company while I wrote. At mealtimes, he often sat at the table like a person.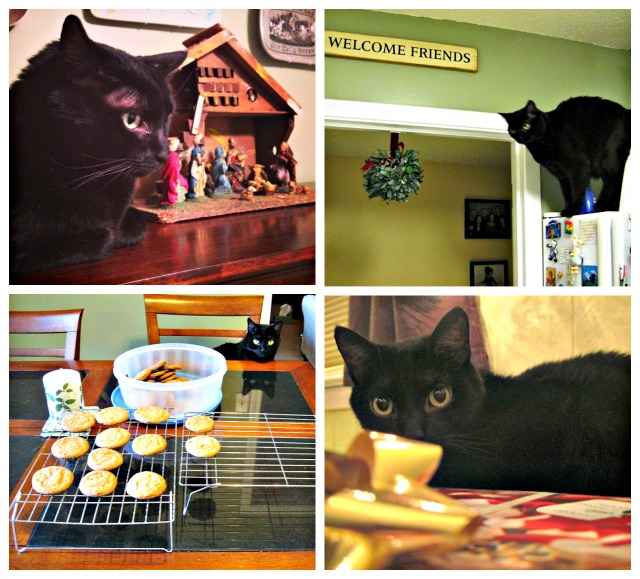 When I got divorced, Gandalf was one of the few steady bright spots in my life. His comforting presence in the house, and his excited greetings when I got home each day, helped me adjust to living alone. I also appreciated his meowy "talkativeness" on a new level. Maybe it sounds crazy, but when I talked to him, I usually felt like he got the gist of what I was saying. Anyone who knew him will attest that you could have a conversation with him. When my dad and handyman replaced my oven, Gandalf famously hopped up onto the counter to supervise their work and stayed there the whole time, meowing his commentary. He also had a repertoire of un-catlike noises – he could sound like a goat or a pigeon or even a sheep.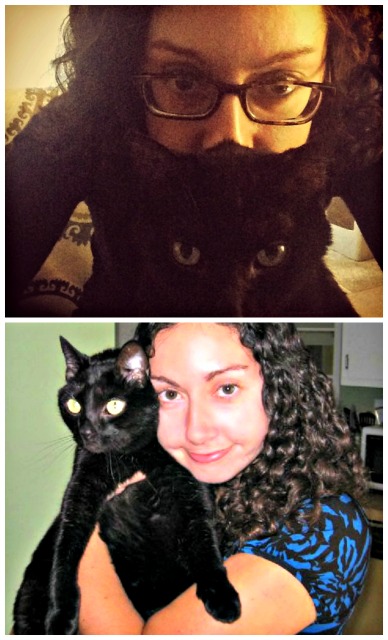 Of my two cats, Gandalf has always been the healthy (if anxious) one. Peach has a chronic disease, so I've been prepared for the possibility of losing her for a long time. But I fully believed Gandalf would live to be twenty years old. So when he had a distressing vomiting episode at the beginning of August, and the vet said he was fine and probably ate something bad, I didn't question it. Nor did I get extremely concerned when he started losing weight and having what seemed like mini-asthma attacks. I suspected a hairball blockage, something possibly serious but fixable. When I got back from Miami two weeks ago and he was no better, I took him back to the vet. Before the exam, I said blithely, "I think it's a bad hairball, or maybe something wrong with his teeth, you might want to check them." But the vet returned with a drawn face and took me to see the X-rays that showed a lung full of fluid. Heart disease, he said, or cancer. (The tests confirmed cancer days later.) Either way, unless I wanted to take Gandalf to a specialist (which I didn't, for many reasons), he would probably only last a few more weeks. He was about to have his twelfth birthday.
To make everything worse, I couldn't just let this take its course. I had a personal deadline by which I had to make a decision about his life. He perked up slightly after his lung was drained, but I knew it was only temporary, he was still in pain and not tempted by any of his favorite foods, he was not going to get better. So after his diagnosis, I spent as much time as I possibly could at home with him, for a week and a half. Then yesterday, September 15, a mobile vet service came to the house, and I said goodbye to the best feline friend I will ever have.
I'm seriously overwhelmed by the love and support of my friends. Yesterday I received condolences of one kind or another from probably a hundred people. There are so many "it's just a cat" people in this world, but most of my friends are not part of that number. They understand what he meant to me and that I've lost a member of my family. For years, I prayed regularly that I would at least be in a relationship whenever I lost Gandalf. It seemed unimaginably hard to handle that loss all alone. Well, I'm still as single as the day is long. The thing I specifically asked not to happen, happened. But I am not alone. The gift of this situation is the bone-deep knowledge of how not alone I am, and that means more than I can say.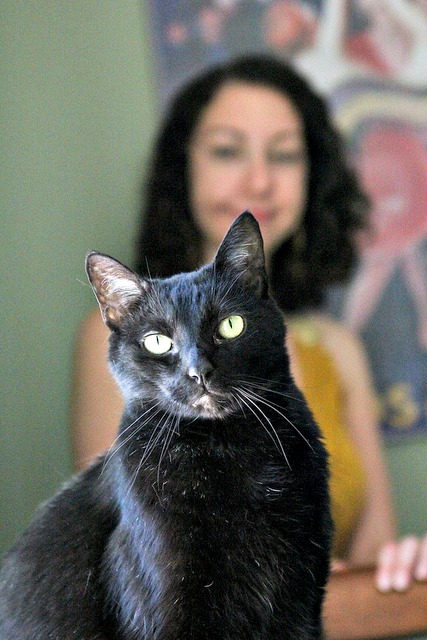 Two of my wisest friends, independently of one another, told me they believe Gandalf was a cat of purpose. Like his namesake, he was sent into my life for comfort and guidance in times of need, and God took him sooner than expected because his purpose was complete. That gives me a weird sense of hope. Regardless, my Gandalf was without a doubt a "soulish creature." If there are any animals in the next life or the new earth, I am absolutely sure that he'll be among them. I believe I will see him again.
About Brenda W.
Christian. Memphian. Reader. Writer. True blue Tiger fan. Lover of shoes, the ocean, adventure, and McAlister's iced tea.
View all posts by Brenda W. →
September 16, 2014
Posted in
cats
,
grief
,
memory lane