Book Review: Rare Bird by Anna Whiston-Donaldson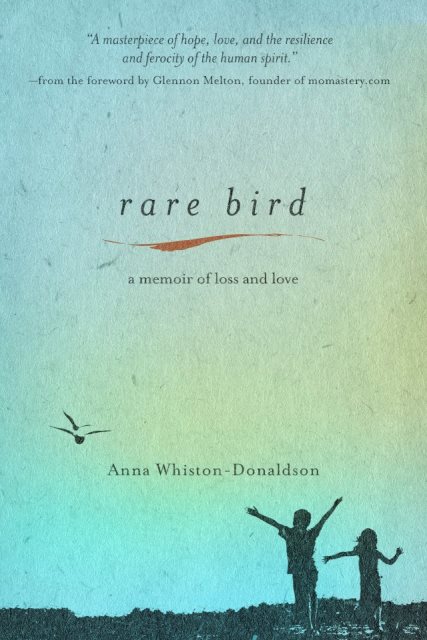 On September 8, 2011, Anna Whiston-Donaldson's two kids went out to play in the rain with friends. Her twelve-year-old son, Jack, fell into a flooded, fast-moving creek and did not survive. Rare Bird: A Memoir of Loss and Love is an account of the accident, the aftermath, and Anna's grief process over the following year or so as she lived out every mother's nightmare, trying to put herself and her family back together.
If you've ever unexpectedly lost someone precious to you, you will relate to and feel validated by Rare Bird. Anna is despairing yet hopeful, faithful yet furious, and she doesn't sugarcoat any of it. She perfectly illustrates how deeply it sucks to be a walking cautionary tale, to be the tragedy inspiring everyone around you to hold their loved ones closer (which is one of my lasting emotional imprints from my divorce). I'm thankful for her honesty, not only in admitting to her own raw emotions but also in talking about mystical experiences that might sound a little crazy to those who haven't passed through a deep valley. I got chills as she described Holy Spirit-y things I've never talked about much, and felt reassured even years after the fact. I also nodded along with her words about how loss changes relationships, and you may be surprised by who does and does not show up for you – a side effect that doesn't get much press.
Rare Bird is wrenching – I felt wrung out when I was finished and even cried on a plane reading it. But it's also a beautiful story of a remarkable boy and his remarkable mother, and I was glad to bear witness with them.
Rare Bird is available now in bookstores and online. You can also find Anna at her blog, An Inch of Gray.
Recommended for: Anyone who's experienced loss, or who wants to help and understand someone who has.
See also: Invitation to Tears by Jonalyn Fincher and Aubrie Hills; Saturday Night Widows by Becky Aikman
I received this book free from the publisher through the BookLook Bloggers book review program. I was not required to write a positive review, and the opinions I have expressed are my own.
About Brenda W.
Christian. Memphian. Reader. Writer. True blue Tiger fan. Lover of shoes, the ocean, adventure, and McAlister's iced tea.
View all posts by Brenda W. →
October 16, 2014
Posted in
book reviews
,
grief