Book Review: Whatever Life Throws at You by Julie Cross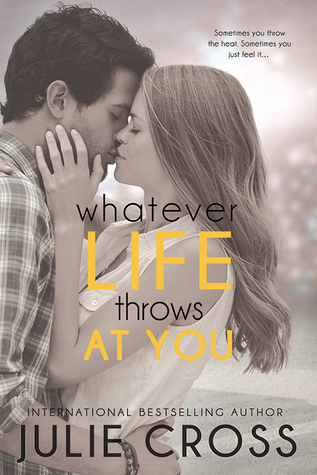 I loved Julie Cross's Tempest trilogy, a time-travel story with heart. Her follow-up, the standalone Whatever Life Throws at You, is contemporary and non-supernatural but boasts the same type of likable characters – rough and tough on the outside, marshmallows on the inside.
When Annie Lucas's dad gets a job offer as a pitching coach for the Kansas City Royals, she practically forces him to take it. To Annie, getting both of them (and her ailing grandma) away from her flighty, usually-absent mother is worth any upheaval to her own life. On her first day in Kansas City, she has a meet-cute with Jason Brody, the wunderkind pitcher her dad is there to champion. Despite his womanizing ways and checkered past, she still feels drawn to him. But as they get to know each other (against everyone's advice), that public image starts to fall apart. He starts playing up to his potential. The Royals start winning for the first time in decades.
Meanwhile, Annie deals with a lot of drama on the homefront – her own as well as that of her friend Lenny, daughter of one of the Royals' star players. I appreciated the depiction of real, complex family problems instead of obvious Afterschool Special stuff.
I don't know much about the behind-the-scenes environment in professional sports, but the PR crises and day-to-day lives of the players, staff, and their families in this book felt very believable. I also love the fact that life is currently imitating art with the Royals' playoff run (Julie addressed this on her blog yesterday).
Whatever Life Throws at You was released yesterday and is available on Amazon and wherever books are sold.
Recommended for fans of: baseball, good father-daughter stories, Veronica Mars (there are similar qualities)
I received this book from Netgalley in exchange for an honest review.
About Brenda W.
Christian. Memphian. Reader. Writer. True blue Tiger fan. Lover of shoes, the ocean, adventure, and McAlister's iced tea.
View all posts by Brenda W. →
October 8, 2014
Posted in
book reviews