True Life: I Was an Introvert Raised As an Extrovert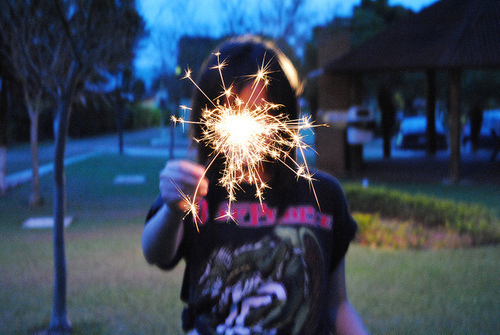 My life has been a nonstop flurry of activity since I was a little girl. I honestly can't remember a time when I wasn't hustling from one thing to another, and don't know how to live any other way. I probably would have been content to read, draw, write stories, and ride my bike on my own every day of my childhood. Instead, I dreamed and contemplated in stolen moments between ballet, T-ball, Girl Scouts, and church involvement. When I started marching band at fourteen, I was allowed to drop most other things, but band was so all-consuming that it didn't make me any less busy. At home, my family ragged on me when I spent quiet time in my room, or wanted to be alone for a while. I was supposed to be outgoing, do and experience as much as I could, participate in family life. Quiet down time – or rest – equaled laziness and social awkwardness. Meanwhile, kids at school gave me a hard time for being more interested in books than in talking most of the time. Because I didn't know any differently, I viewed my introversion (though I didn't even know to call it that) as a flaw to overcome. The price of the overcoming was constant mental and physical exhaustion. One memorable day, I came home from practice, went to bed at six PM, and slept straight through to the next morning. But it never occurred to me (or anyone in my life) to question or change anything.
I don't share my story angrily or to cast blame. My parents had good intentions and succeeded in making me a more outward-facing and well-rounded person. But I was in my late 20s before I understood the type of recharging I've always needed was not only legitimate, but also shared by about half of the population. Needing unstructured stillness to sort out my thoughts and feelings, needing not to be doing something and around people all the time, didn't mean I was a lazy weirdo. It meant I was an introvert. I read Quiet and other introvert-power manifestos and felt validated. I learned to listen to myself and to scale back… a little.
But too often, I'm still that girl who powers through until she involuntarily collapses into bed at six PM – and now I'm the one making myself do it. I love people, going out, and being involved in as many things as possible, but sometimes it's not what's best for me. I struggle to see free time to myself as a valid choice instead of a lack of options. The harder I push myself, the more my mood, health, and creativity suffer. But I have innate Fear Of Missing Out and can't seem to accept my own limits. After a lifetime of playing an extrovert, I don't always know how to turn it off. I'm unsure whether I'm acting out of my true self or my conditioning, or how different they really are anymore. Being where the action is energizes me… for a while. Then I hit my limit and want to go home. Being at home by myself is relaxing… until loneliness takes over. I can flip from give me some space to no one loves me anymore in a second.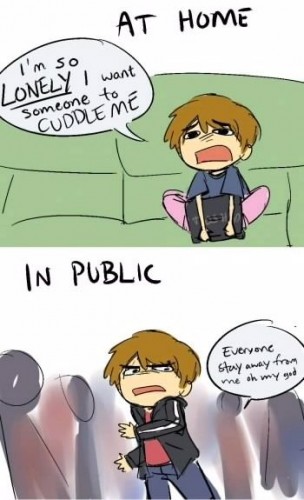 Introvert Shame, with its shoulds and oughts, is entrenched in my heart. It's powerful, and singleness makes it worse. Singleness means I have to actively seek out and maintain community, because I won't find it in my home, and it usually won't come to me. However, I'm really thankful for my friends who stay friends even if they don't see me frequently, who can be happy hanging out without going out, who also think an occasional night on my patio talking over a bottle of wine is a good time. Especially when they're willing to hike out to my house in the burbs to do so.
Singleness also means that if I'm not out there and on as much as possible, my singleness could be my own "fault." The dating scene is an extrovert's game, in which seeming boring is one of the worst fouls you can commit, and I'm only capable of sparkling effusively for so long. Eventually, I burn down to the metal wire of me. It's an ongoing battle to believe that what I am at the core is enough, since it's actually not enough for some people. I try to convince myself the right person will see me even if I'm not the go-to life of the party. And even if no one ever sees me, somehow that'll be enough too.
I'm still figuring out how to respect and honor my inner introvert. Every time I think I've got it under control, I have another little crash and burn that proves otherwise. It's a long road, and if you're walking it too, I salute you.
About Brenda W.
Christian. Memphian. Reader. Writer. True blue Tiger fan. Lover of shoes, the ocean, adventure, and McAlister's iced tea.
View all posts by Brenda W. →
October 21, 2014
Posted in
extracurriculars
,
personality
,
singleness