My Best Friend's Wedding
In September 2012, my friend Alanna texted me that she was thinking of signing up for Christian Mingle. Despite the freshness of a terrible experience with eHarmony and my disdain for Christian Mingle specifically, I encouraged her to go for it if she felt good about it. Within 48 hours, she started talking to a guy named Jonathan. They went on their first date the following weekend. He proposed this past Fourth of July at Turner Field in Atlanta, and last Saturday, they got married.
Results not typical, indeed, but it couldn't have happened to better people. I didn't even need to have the semi-joking "If you ever hurt her, I will hunt you down" conversation with Jonathan, and that means a lot to me. I'm continually thankful that the married women closest to me are with good men who see their value and love them deeply. Even the best marriages go through rough times, of course, but it's a gift not to feel anxious about my friends' (or my sister's) marriages or whether they're being treated well.
Alanna worked with a seamstress to alter her mom's wedding dress, and I can't get over how gorgeous, classy, and perfect for her it was. Duchess Kate would have approved. Early in the process, Alanna texted me and Allie (one of the other bridesmaids) a picture of herself smiling in the dress in its original 1970s state with no commentary. Ever-tactful Allie finally replied, "How elegant!" Then she assured us this was the Before picture and we collapsed in relief. Hilarious.
The bridal party got to choose our own navy dresses. I loved that they all expressed our personalities but still looked great together and didn't cost a fortune. My dress was from The Limited. I had my eye on it last spring, but it sold out online before going on sale. So after the engagement, I ordered a dress from eShakti instead. In person, it was less flattering than I'd hoped, but I was still going to wear it in the wedding. Then, I popped into The Limited on my birthday and found My Dress on the clearance rack. Only one, my size, 70% off. I thought the lace and chevron might be too distracting for the wedding, but Alanna insisted. I love it and am excited that I can wear it regularly now!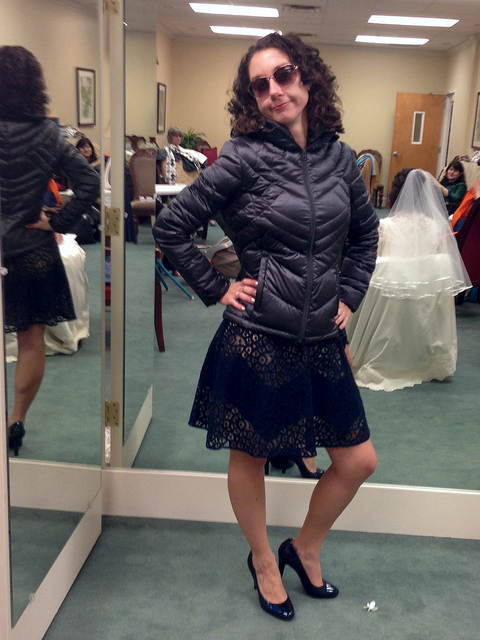 It even looked good with a puffer coat. From the altar to the slopes!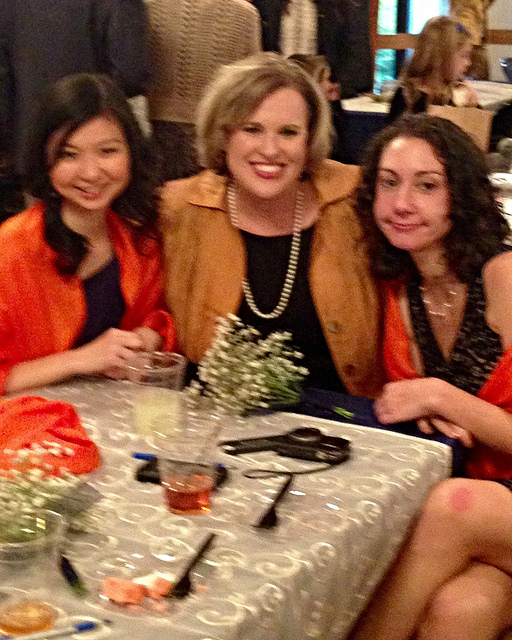 We all received orange wraps to wear with our dresses. Guess where the groom went to college?? As he cut his Auburn cake at the reception, he shouted "War Eagle" and everyone responded like it was a liturgy in church. Oh, SEC.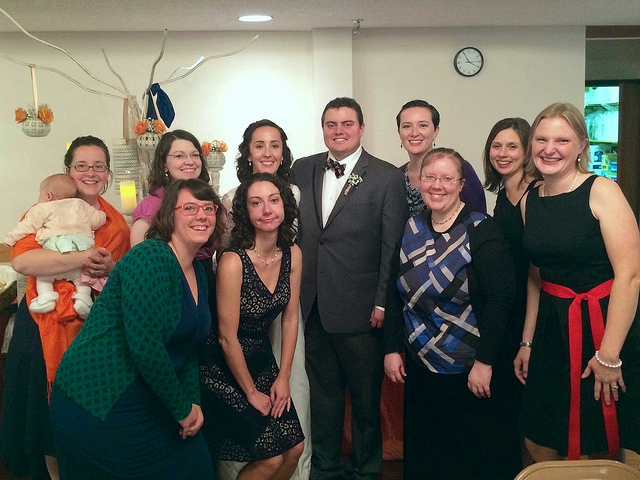 Besides the actual marriage, the most exciting thing about the wedding was most of the SIPsters being together. In 2009, a bunch of us who knew each other on LiveJournal met up for a weekend in Knoxville. We went thrift shopping together, and I can't remember if we actually found a pair of jeans that fit several of us, but Bethany's husband started calling us the Sisterhood of the Traveling Secondhand Pants. Since several of us had had eyebrows raised at us about hanging out with people from the internet, we also called ourselves the Scary Internet People. Eventually that was abbreviated to SIP and merged to create SIPsters. I know it's cutesy (and efficient), and cliquey (our borders are flexible). Even though most of us live far apart, these women have become some of my favorite people in the world. We try to hang out as a group at least once a year, and get together in smaller groups whenever we can. It's never enough time, though. I was thrilled that Caroline, one of my local best friends, got to meet them at the wedding. She texted her husband that she'd just met the SIPsters, and he replied, "WTF is a SIPster?" So, there you go. Alanna's sister Katharine is another SIPster and the person who suggested Alanna and I should hang out. She was the matron of honor, and getting to share this experience with her was a happy bonus. I'm thankful to have her in my life, and I will always be thankful to her for bringing her sister into my life too.
I didn't make any speeches this weekend because I couldn't have gotten two words out without crying, but I don't know what I would have done these last few years without Alanna. She has been my defender, my rock, and my safe harbor. She's prayed for me, encouraged me, continued to hope for me when I can't anymore, internet-stalked guys on my behalf, and helped me decide which shoes more times than I can count. I can tell her anything at any time of day or night and never worry that I'm bothering her (even when I am) or sound crazy (even when I do). In short, she is everything a best friend should be. I wish her all the happiness in the world.
About Brenda W.
Christian. Memphian. Reader. Writer. True blue Tiger fan. Lover of shoes, the ocean, adventure, and McAlister's iced tea.
View all posts by Brenda W. →
November 17, 2014
Posted in
celebrate
,
friends
,
love