The 2014 Soundtrack
Throughout the year, I spend way too much time and energy curating a musical yearbook of sorts. It's a labor of love. When I started doing this in 2002, iPods were new and Spotify not even a twinkle, so I could only choose as many songs as would fit on an 80-minute CD. For simplicity's sake, I still impose this limit on myself for the final cut – which I select from an ongoing free-for-all playlist.
It's always hard to narrow down, but this year was especially so. In some instances I chose one song over another purely on whim and flow. The order is roughly chronological. My other rule for the final cut is no duplicate artists, so where applicable I'll list my other favorites of theirs.
You can listen to this final 2014 soundtrack (minus T. Swift) and the much longer free-for-all 2014 soundtrack on Spotify.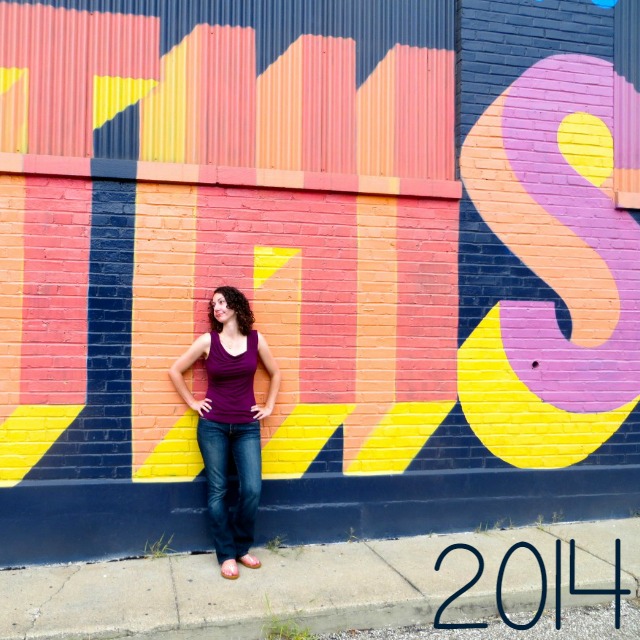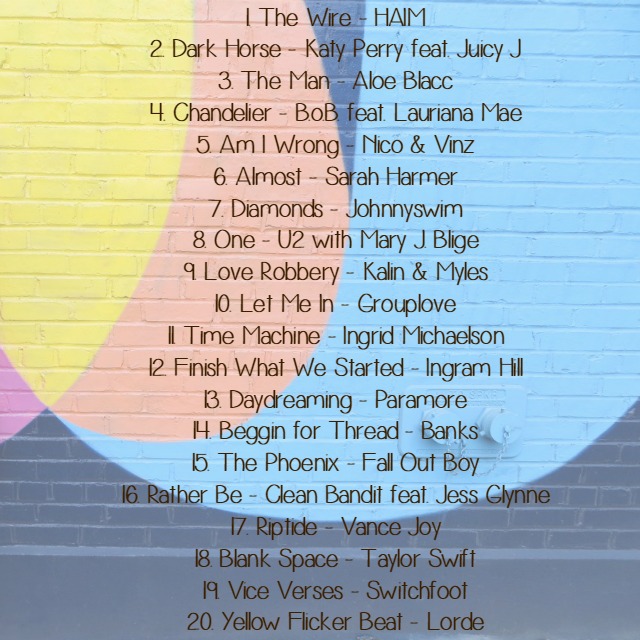 1. The Wire – HAIM
Always keep your heart locked tight. Don't let your mind retire.
I fell in love with HAIM at first listen. These sisters are like indie California Debbie Gibsons, and their music made summer last all year for me.
Runners-up: Falling, Days Are Gone
2. Dark Horse – Katy Perry feat. Juicy J
So you wanna play with magic? Boy, you should know what you're falling for.
This year I gave up any pretense that I'm NOT a huge Katy Perry fan. And with Memphis native Juicy J guesting on this track, I couldn't ask for more.
3. The Man – Aloe Blacc
Stand up now and face the sun, won't hide my tail or turn and run. It's time to do what must be done. Be a king when kingdom comes.
Aloe Blacc is so soulful and down-to-earth. Also I think of poor Kevin Garnett every time I hear this. Hang in there, Kev!!
Runners-up: Love Is The Answer, I Need A Dollar
4. Chandelier – B.o.B. feat. Lauriana Mae
They say life's about choices. In the face of defeat, I declined. Put your soul into everything, never back down. That's how you leave a legacy behind.
B.o.B. is one of the most underrated rappers out there, and this has been one of my go-to running songs for a couple of years. I just love it.
5. Am I Wrong – Nico & Vinz
I ain't tryna do what everybody else doing, just cause everybody doing what they all do.
I have a mental musical category called Boat Music: summery songs that would be perfect to listen to on my grandfather's boat in the middle of Biscayne Bay. I can't pin down a commonality – either it works or it doesn't (much like my mental list of songs I want to compile into a musical). I first noticed "Am I Wrong" as Boat Music and kept listening for the great message.
6. Almost – Sarah Harmer
And if I am a sailor, you are the warm gulf wind. And you've blown into this little port and roused my dreams again.
About a boy.
7. Diamonds – Johnnyswim
We're the fire from the sun, we're the light when the day is done. We are the brave, the chosen ones. We're the diamonds, diamonds rising up out the dust.
I don't often listen to iTunes Radio (especially now that I have Spotify Premium), but one of the few times I have, this song popped up and grabbed me immediately. I downloaded it before I was even finished listening to it for the first time. GRYFFINDOR MUSIC. Love Johnnyswim!!!
8. One – U2 with Mary J. Blige
You say love is a temple, love the higher law. You ask me to enter but then you make me crawl.
If I HAD to pick only one favorite song of all time, One would probably be it, and this Mary J reissue from a few years back is as good as the original. She sings it like she is having church, which worked for me, because I'd have wanted to say the same things this year if I got into a pulpit.
9. Love Robbery – Kalin & Myles
That's just how it goes when you fall for a heartbreaker whose heart has been broken before.
A fun piece of R&B fluff that I listened to about a hundred times this summer.
10. Let Me In – Grouplove
Let me in, yeah let me get closer. Got my hands high like I ride a roller coaster.
A song for those times when you (metaphorically) throw yourself over a cliff knowing you will almost certainly hit the ground, and don't even care.
11. Time Machine – Ingrid Michaelson
Your broken sorrys don't mean a thing. You made that bed, good luck falling back asleep.
If Ingrid is still the sweet "If you are chilly, here take my sweater" girl to you, give this song a listen. It's a barn burner with a saxophone hook. GET IT, GIRL.
Runner-up: Girls Chase Boys

12. Finish What We Started – Ingram Hill
Nothing matters without love, 'cause baby it's all that we're made of.
I renewed my Ingram Hill fandom this year, getting familiar with their past three albums in one swoop and seeing them live on the Peabody rooftop on my birthday weekend. This is one of my faves and one of their best to run to.
Runners-up: Miss Kennedy, Four-Letter Word, I Hear Goodnight, Broken Lover
13. Daydreaming – Paramore
I wanna get out and build my own home, on a street where reality is not much different from dreams I've had. A dream is all I have.
2014 was a year of new appreciation for some of my most-neglected Paramore tracks, including this one. I started listening to it a lot after my birthday, when I started thinking about moving back into the city and taking more serious steps toward the life I want.
14. Beggin for Thread – Banks
I got some dirt on my shoes; my words can come out as a pistol, and I'm no good at aiming, but I can aim it at you.
Banks is another artist I discovered randomly (on Spotify this time) and fell in love with instantly. My first thought upon hearing this song was, Her voice sounds just like Ginny Owens [of CCM fame], except Ginny Owens would never say some of these words. I downloaded Goddess the next day and listened to it on a loop for weeks. Probably my top album of the year.
Runners-up: Under The Table, Brain, Goddess, This Is What It Feels Like, Warm Water
15. The Phoenix – Fall Out Boy
You know time crawls on when you're waiting for the song to start, so dance alone to the beat of your heart.
If I stopped pretending to the world this year that I don't love Katy Perry, I also stopped pretending to myself that I don't love Fall Out Boy. This may be the best non-Britney, non-Beyonce running song ever. EVER. Instant motivation.
Runners-up: Alone Together, Young Volcanoes
16. Rather Be – Clean Bandit feat. Jess Glynne
If you gave me a chance I would take it. It's a shot in the dark, but I'll make it.
Another addition to the Boat Music list, this song makes me think of sunshine and the ocean and is a shoutout to all the people I love. Because this year, whenever I was with them, there was no place I'd rather be.
17. Riptide – Vance Joy
This cowboy's running from himself, and she's been living on the highest shelf.
I have no real explanation for liking this song, except it's different, and I'm amused by the random Michelle Pfeiffer reference.
18. Blank Space – Taylor Swift
Oh my God, look at that face. You look like my next mistake.
This choice might be surprising since I devoted an entire post to Out of the Woods, but as I listened to 1989 obsessively, Blank Space was the song I kept coming back to. I'm not proud to say so, but it's where I currently feel Taylor the most. It's the clear-eyed statement of a woman who's ready to own her weaknesses, face up to the hopelessness of her romantic situation, and just get whatever getting is good.
Runners-up: Out of the Woods, All You Had to Do Was Stay, Shake It Off, Clean
19. Vice Verses – Switchfoot
You got your babies, I got my hearses. Every blessing comes with a set of curses.
Every line of this song is poetry. It's also been the Psalm of Brenda in the later part of this year. If you want to know what I've been struggling with, just listen to it.
20. Yellow Flicker Beat – Lorde
I'm speeding up, and this is the red, orange, yellow flicker beat sparking up my heart.
Lorde wrote this for Mockingjay Part 1, and it's by far the best song written for a movie since Adele's Skyfall. She captures Katniss' voice and the themes of the story perfectly. After listening to it a few times, I decided I wouldn't find a better closing track for 2014, because it describes my current state. Beaten down, but with faint hope coming back, waiting to be blown from an ember into a fire.
And that's it. PS: as I've looped these selections, I've been happy to notice a common ocean/water theme in many of the lyrics. Not even on purpose!
Past annual soundtracks: 2013 // 2012 // 2011 // 2010
About Brenda W.
Christian. Memphian. Reader. Writer. True blue Tiger fan. Lover of shoes, the ocean, adventure, and McAlister's iced tea.
View all posts by Brenda W. →
December 23, 2014
Posted in
music
,
year end