Extreme Home Makeover: 8-Year Edition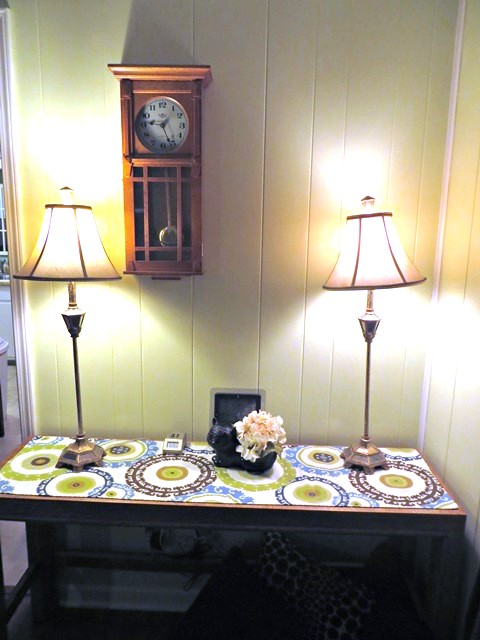 As I prepare to list my house for sale, I'm taking final stock of its transformation. The previous residents of my house were two nice elderly ladies who hadn't made any decor updates in a couple of decades. They liked wallpaper and dark wood, and for whatever reason, they really liked snowmen. The first time my ex and I saw the house, there was a snowman on every flat surface… in the middle of July. But we saw the potential and made an offer that day. (This is why I can't watch House Hunters anymore. I entered an actual bidding war over what you're about to see. I have no patience for people who reject a house over, say, furniture that doesn't even come with the house.) Now, this house is the definition of "move-in ready," and I'm ready to appreciate all that work one more time. I don't think I'll ever take on a project of this magnitude again!
Foyer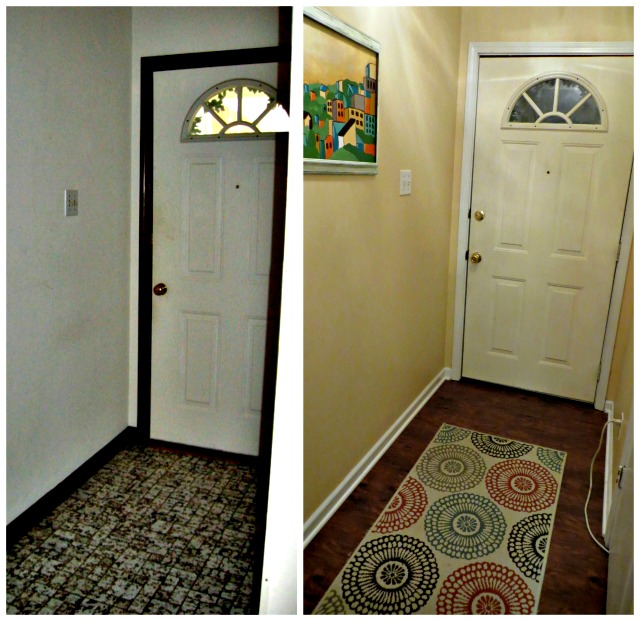 The day the floor guys ripped up that tile might have been one of the happiest days of my life. Paint color for foyer and hallway: Behr Clean Air. Rug from Zulily.
Living Room: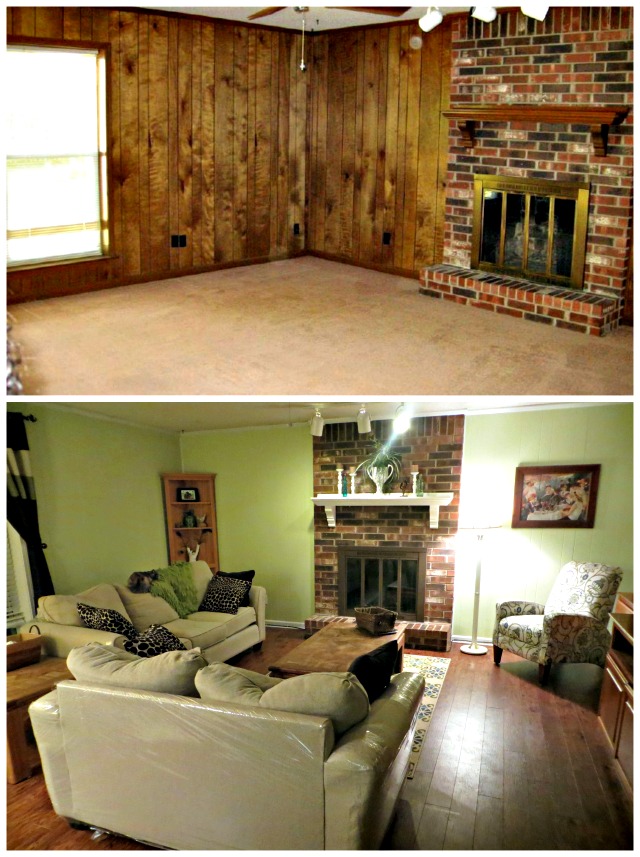 This room was the first painting project (and one of the few that my ex helped me with). We tackled it over Thanksgiving weekend 2006. It took at least six coats, and on Sunday afternoon I walked clear out of the house without a word because I couldn't paint for one more second. It was worth it, though (and when I repainted the room years later, the job was a breeze by comparison). Paint color: Glidden Celery Sticks. I always wanted to do something about the lighting situation in this room, but oh well.
Dining Nook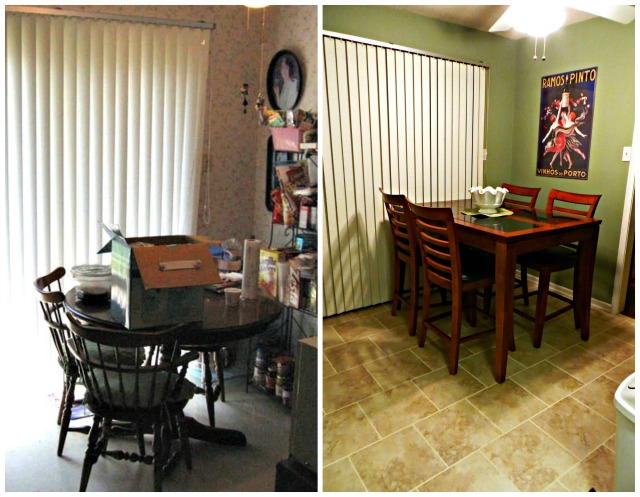 When I had that wallpaper removed, there was another layer underneath. Facepalm. Paint color for dining and kitchen: Behr Sagey.
Kitchen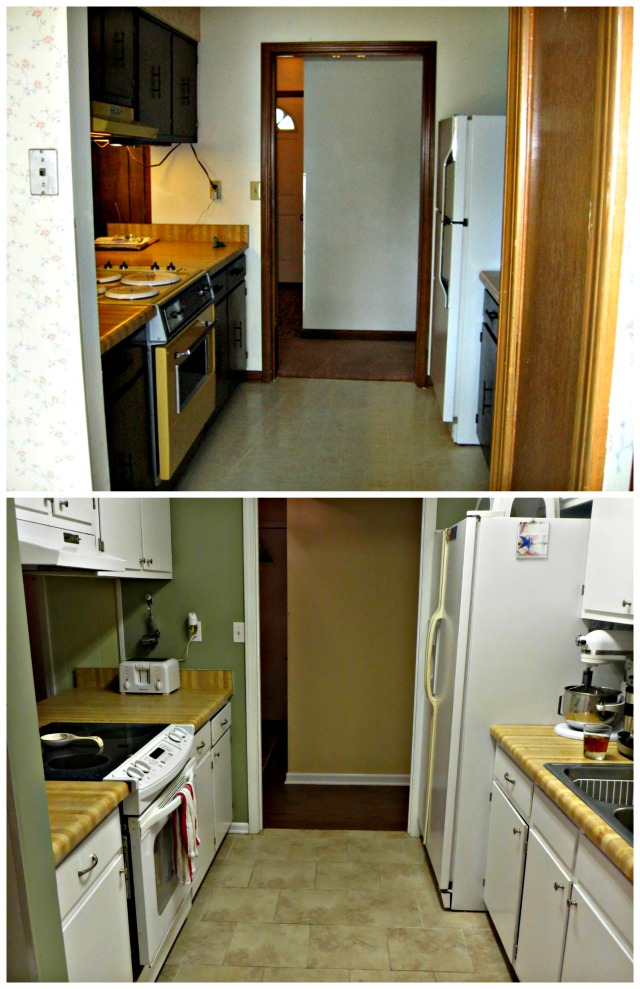 I had the cabinets professionally painted, because I didn't want to cook and eat in a construction zone for the weeks it would have taken me. My best homeowner advice: DIY is great, but don't be afraid to throw money at a problem wherever possible.
The harvest gold appliances stayed for several years because they worked. However, in the summer of 2011, the old dial-style buzzer oven timer started malfunctioning. It got to the point where I was stumbling out of bed on the hour all night long to shut it off manually. It was like having a newborn or living in a Friends episode. I managed to acquire a new oven and range before going Office Space on the old one.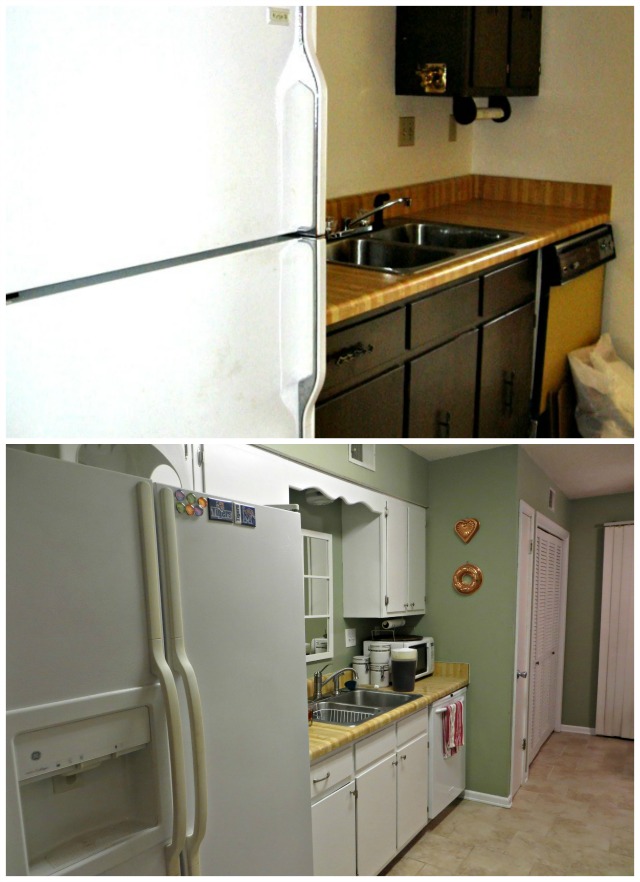 Breakfast Bar: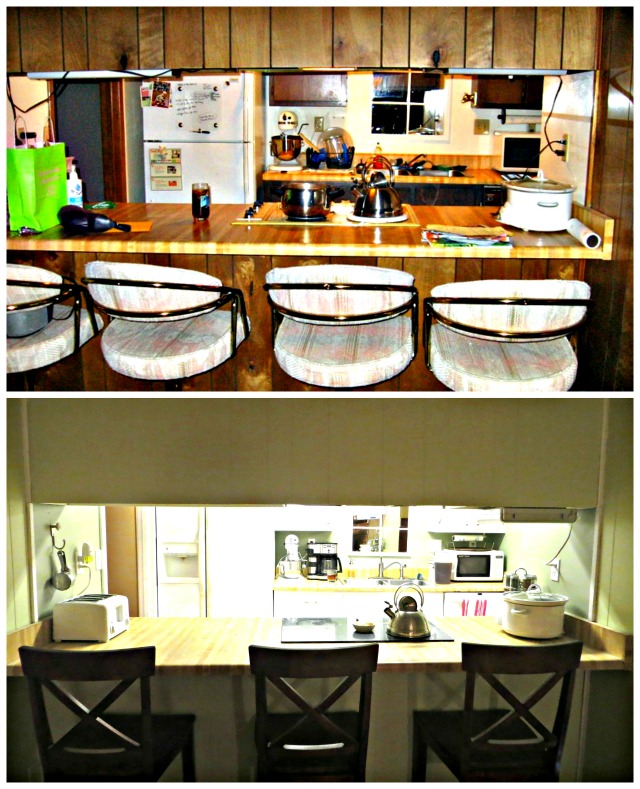 This has always been one of my favorite features. My previous home was an older apartment with a closed-off kitchen. I've loved being able to remain a part of things (or even watch TV) while cooking and stuff, and when I have friends over, we inevitably cluster in this area.
Hallway: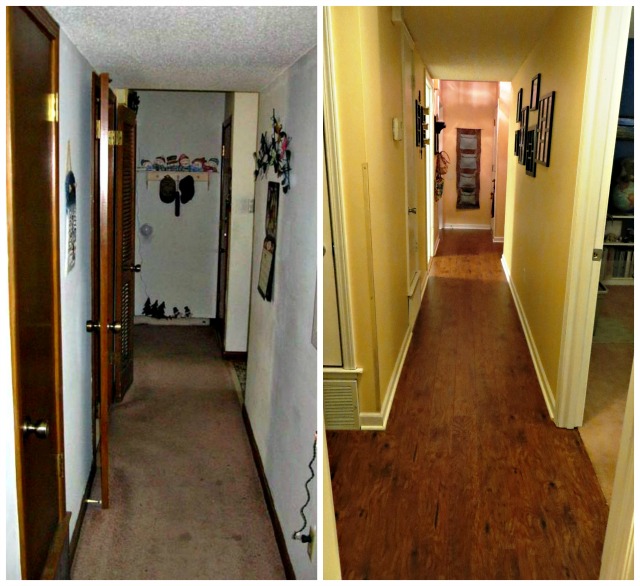 Snowman alert!
Office: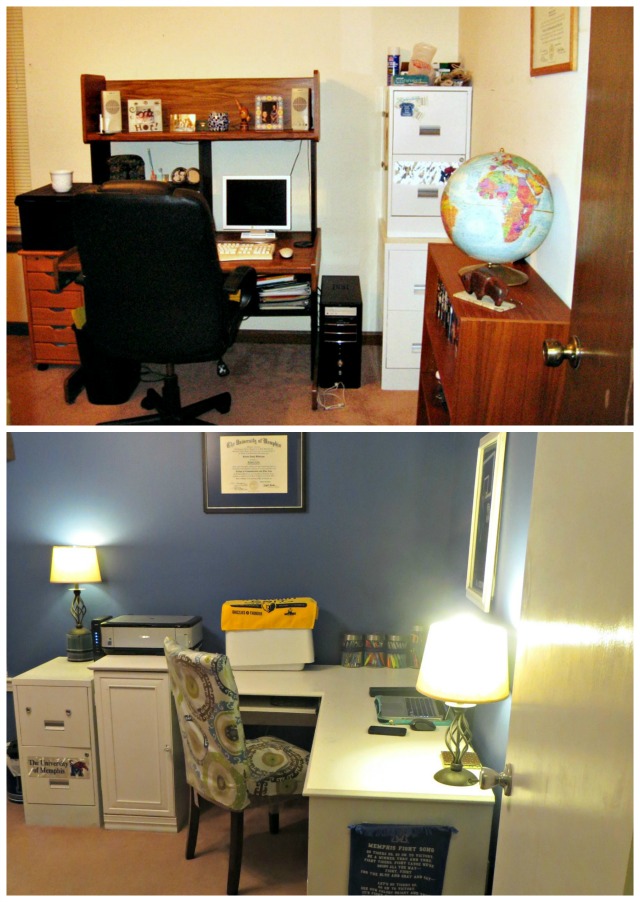 One of my favorite places. I do all my sewing and crafting in here amongst my blue walls and Tigers (and Grizz) memorabilia. Paint color: Behr Liberty.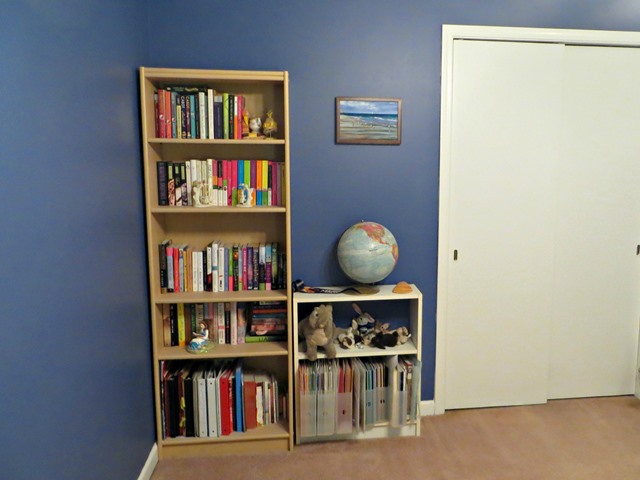 Guest Room: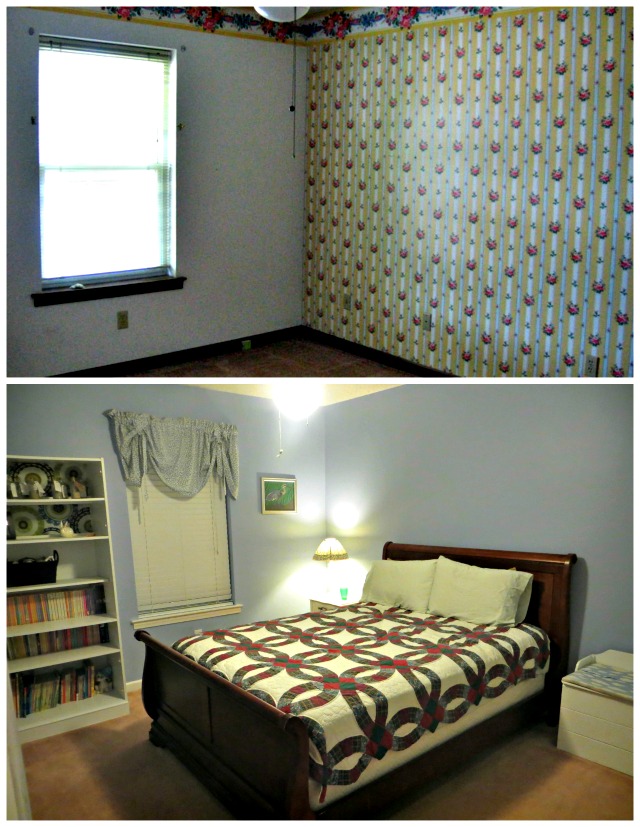 That wallpaper. Paint color: Unfortunately I don't have a record of the name, but it's on the same paint chip card with Behr Liberty. I've always called it "Hydrangea Blue." PS: I never really found a cohesive theme or look for this room. I was just about to get around to it.
Guest Bath: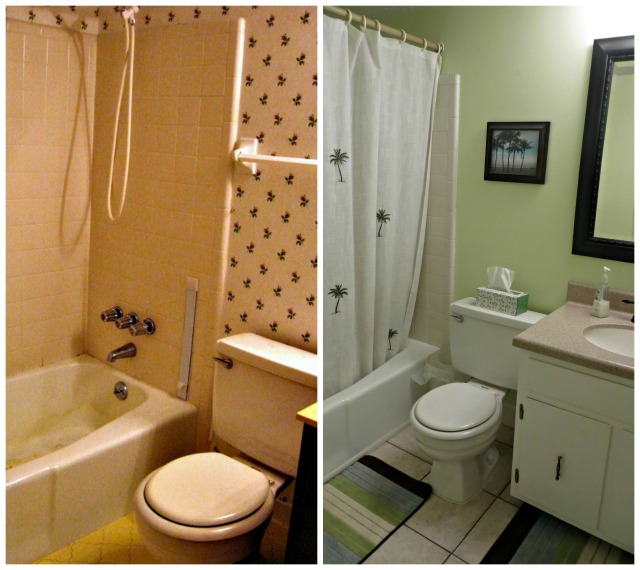 This became my Palm Tree Bathroom. Paint color: Again, it's a Behr shade I'm not sure of. I call it "Key Lime Pie." (If anyone wants to hire me to name paint colors, I'm down.)
Master Bedroom: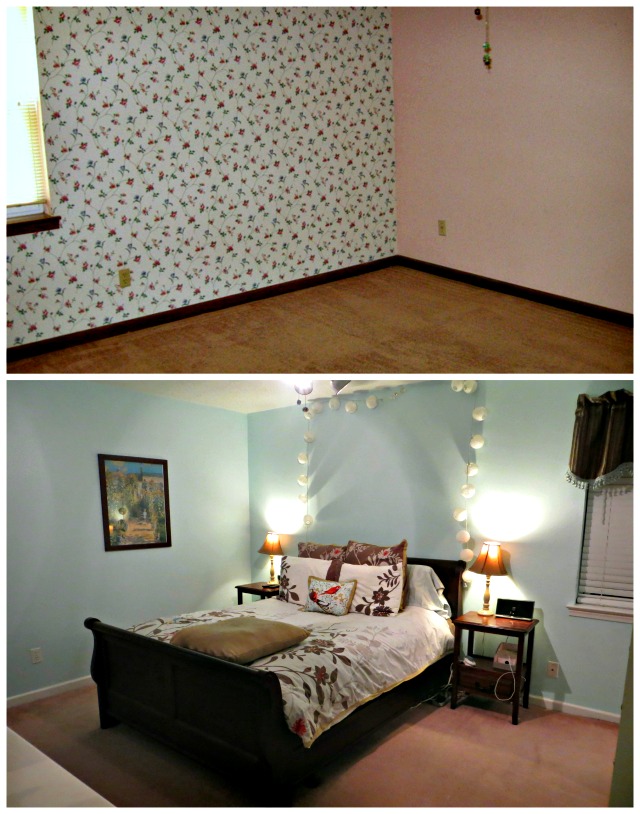 I love my room now, but that pink caused me physical pain for almost a year. Paint color: Behr Ionic Sky.
Master Bath: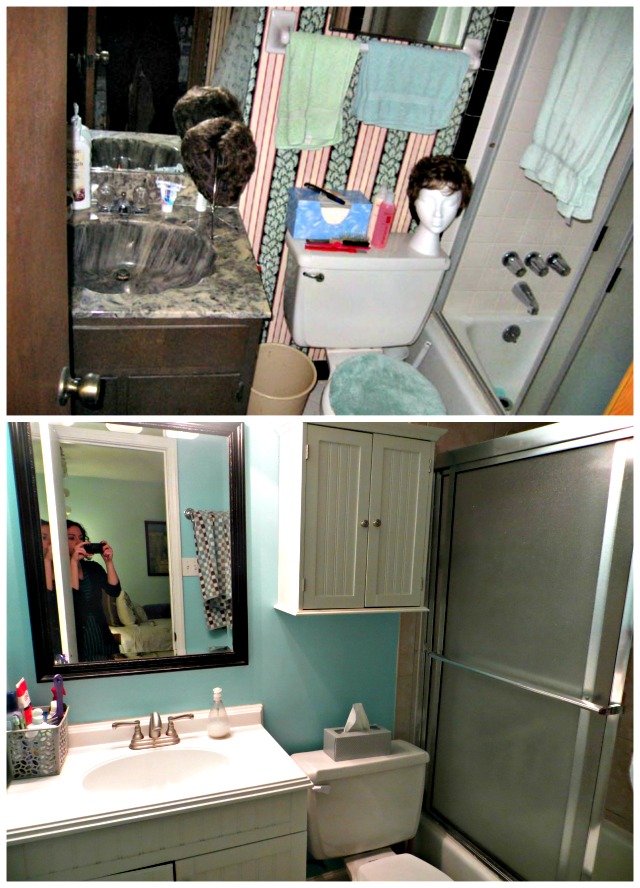 The piéce de resistánce. I have a house album on Flickr, and a stranger once messaged me to suggest I enter this top photo in an ugly bathrooms contest. I did. It didn't win. Anyway, one of the first things we did in the house was rip this wallpaper down with our bare hands. Years later, my dad and brother completely remodeled the room for me. I chose all-new everything, and they installed it. My custom bathroom will be one of the hardest things to leave.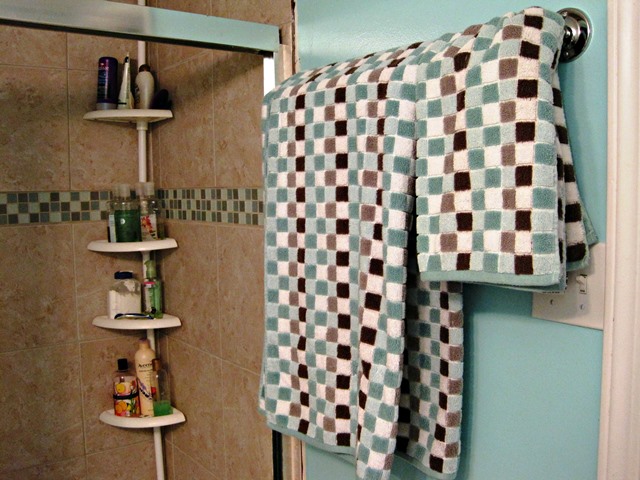 The shower accent tile I wanted wasn't available, so I found square sheets of this tile, and my brother cut it in half to make a stripe. I was thrilled to find towels at TJ Maxx that matched perfectly. Paint color: Behr Spa. When we first repainted, it was an even brighter turquoise, but I scaled it back for better flow with the bedroom. (I'm a Florida girl. I need a little turquoise.)
I'm going to miss my home, but I know it's time to move on. I need a change and a fresh start. I'm excited about getting into a new, probably smaller place and making it my own. Hopefully someone else is about to love this house as much as I do!
About Brenda W.
Christian. Memphian. Reader. Writer. True blue Tiger fan. Lover of shoes, the ocean, adventure, and McAlister's iced tea.
View all posts by Brenda W. →
February 6, 2015
Posted in
domestic
,
home