Book Review: The Scorpion Rules by Erin Bow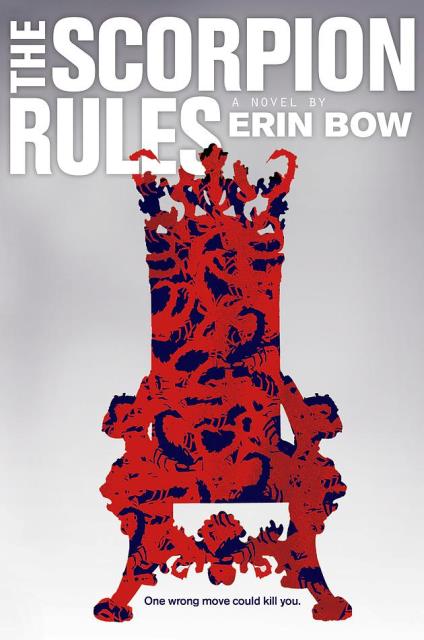 A few hundred years in the future, as global climate change leads to increasing shortages, war wipes out most of the population that hasn't already died from lack of viable water. In desperation, the United Nations appoints an AI, Talis, to find a way to save what's left of humankind. His solution: nuke a series of major cities to get everyone's attention, then take over the world and keep the peace himself. His strategy: make war personal by taking a hostage child from each world leader while they're age five to eighteen. If any leader declares war, their child's life is forfeit.
Greta Gustafsen Stuart, Duchess of Halifax and Crown Princess of the Pan-Polar Confederation, has grown up in one of these Preceptures, with the heirs of the world's kingdoms and confederacies as her de facto family. She works and studies hard, flies under the radar, and tries to be realistic about her chances of surviving to her eighteenth birthday. Then Elian, a new hostage from a newly formed nation, arrives at the Precepture kicking and screaming. His nation borders Greta's, and she knows immediately that their countries are going to war; both of them are going to die; and she's not ready to die before she's ever really lived.
So many books have claimed to be the next Hunger Games. The Scorpion Rules really is, in its own way. It's not exactly dystopia; there's no rebellion, and Talis is the most likable, entertaining robot overlord ever, like a Terminator created by Joss Whedon. But it's suspenseful, disturbing, pulls no punches, and takes the road less traveled by at every fork. There is a love triangle, but it's not the kind you're used to, and really it's part of a big love pentagon which I found pretty understandable under the circumstances (and which doesn't drive the plot).
In addition to being a novelist, Erin Bow is also a physicist, and it shows. The science in this book seems pretty solid. I hadn't read any of her work before, but I'm on board for more of her nuanced, darkly hopeful writing. The Scorpion Rules is one of my top 10 fiction books of 2015, no question. I stayed up way too late reading it several nights in a row, and in fact, I'm already in the mood to read it again.

Recommended for: Anyone who likes to read and isn't freaked out by what I described in this review

I received this book free from Netgalley in exchange for an honest review. Lucky me!!
About Brenda W.
Christian. Memphian. Reader. Writer. True blue Tiger fan. Lover of shoes, the ocean, adventure, and McAlister's iced tea.
View all posts by Brenda W. →
July 24, 2015
Posted in
book reviews