Copycat Babalu Veggie Tacos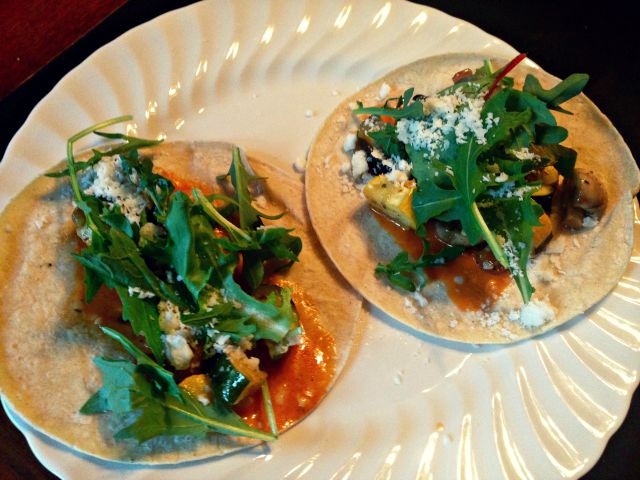 Over the last year or so, my cooking mojo has dwindled to almost nothing. Living in Midtown makes it even easier to go out with friends (someone's running a special every night) or grab something on the run. When I do eat at home, it's usually a salad or an omelet, something I can throw together with minimal effort. However, I still get occasional flashes of inspiration. Such was the case last week when I tried the veggie tacos at Babalu and thought, I must replicate these at home ASAP. It was easy to do. I took note of the ingredients listed on the menu and Googled a recipe for chipotle dressing. It's not a perfect translation of the tacos, but the results were delicious. Here's what I did:
Copycat Babalu Veggie Tacos
Serves 4.
Taco Ingredients:
1 pack small corn tortillas (blue if you can find them)
2 zucchini
2 yellow squash
1 container of mushrooms
4-5 radishes
Small bunch arugula or spring mix
1 cup corn (I forgot this)
½ red onion (unless you're allergic, like me)
1 block cotija cheese
Chipotle Vinaigrette Ingredients: (from here – this makes a LOT of dressing)
1 ½ cups canola oil or other salad oil (not olive oil)
½ cup red wine vinegar
1/3 cup honey
1 ½ chipotle peppers in adobo sauce (I couldn't find these, and substituted another jarred hot pepper)
2 tsp dried oregano
2 tsp salt
1 tsp black pepper
Directions:
1. Slice the zucchini and squash in half. Brush them with olive oil and sprinkle with salt, pepper, and a little oregano. Grill skin-side down until browned.
2. Slice the mushrooms and radishes (and red onion, if using). Sauté in olive oil until they look cooked. Add the corn during the last couple of minutes.
3. Combine the dressing ingredients, except for the oil, in a blender or Magic Bullet. Add the oil gradually. Or totally forget that dressings are supposed to be emulsified and blend everything at once. It'll still taste good.
4. Retrieve the squash from the grill and slice it up. Grate the cheese. Heat the tortillas.
5. Combine all the veggies in a large bowl.
6. Assemble the tacos: dressing on the tortilla, then the grilled veggies, then some arugula. Sprinkle grated cheese on top. Yay!
About Brenda W.
Christian. Memphian. Reader. Writer. True blue Tiger fan. Lover of shoes, the ocean, adventure, and McAlister's iced tea.
View all posts by Brenda W. →
July 20, 2015
Posted in
dining
,
food