The 2015 Soundtrack
It's that time again! Here are the songs that encapsulated my year. My self-imposed rules: no repeat artists (duets/feat.s don't count), and the final edit has to fit on a CD. You can listen to this playlist, or the full unedited version, at Spotify.
Past years: 2010 // 2011 // 2012 // 2013 // 2014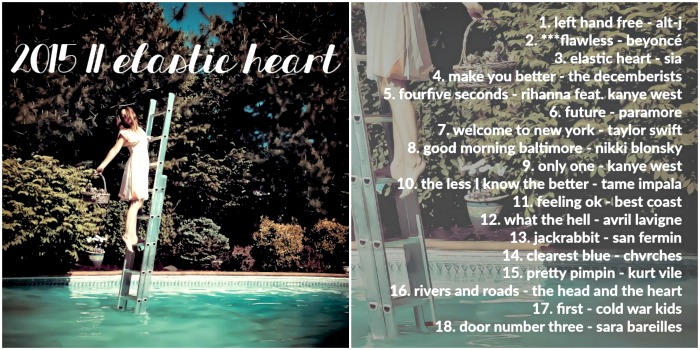 perfect "cover" image by Debbie, via Flickr
1. Left Hand Free – alt-J
I have no idea what this song is about and can't decipher most of the words, but it rocks, and alt-J is my Best Band of 2015. Honorable mentions: Breezeblocks, Every Other Freckle, Hunger of the Pine
2. ***Flawless – Beyoncé
Queen B's (and Chimamanda Ngozi Adichie's) best pep talk. I like it so much, I bought a T-shirt.
3. Elastic Heart – Sia
My "title track" and anthem for 2015. I also enjoyed discussing Sia's performances and videos with people throughout the year. I find her weirdness/performance artistry much more real and Wholehearted than, say, Lady Gaga's (though I can appreciate Gaga too).
4. Make You Better – The Decemberists
The harmonies in the chorus are the best part of this. Aside: I knew my hipster transformation was complete when I couldn't stop talking about how great What a Terrible World, What a Beautiful World was.
5. FourFive Seconds – Rihanna feat. Kanye West
I'm a total sucker for a RiRi hook, and this one grabbed me right away. It's so satisfying to sing along to.
6. Future – Paramore
Every year needs a Paramore track. Future is how I felt about leaving my home of eight years. I wished for a shorter version for this playlist, because after the lyrics there's a five-minute no-holds-barred jam session. But I saw it live at Music Fest, and it was really cool – at one point they turned off all the amps on purpose, and you could still hear everyone whaling away. So that's a memory too.
7. Welcome to New York – Taylor Swift
8. Good Morning Baltimore – Nikki Blonsky (from Hairspray)
My moving-to-Midtown and new-Midtowner themes, respectively. Replace both city names with Memphis. ;) During my first month or two in my new place, I frequently described my mood to friends as "totally Tracy Turnblad," and it wasn't an exaggeration. I was breathing pure elation and possibility. If I could have climbed onto a city garbage truck and sung about the panhandler at the Circle K, I would have.
9. Only One – Kanye West
I truly heard this song for the first time when Bleachers covered it at Music Fest. I know Kanye wrote it about his mom and daughter, but to me, these words are Jesus talking straight to me, and I can rarely listen to it without crying.
10. The Less I Know The Better – Tame Impala
Tame Impala snuck up on me – I realized suddenly that a lot of their stuff was in my rotation. I chose this one because the theme is relatable, it has a great groove, and you have to love a song that rhymes "together" with "Trevor" and "Heather."
11. Feeling OK – Best Coast
The peppiest accurate representation of life with mild depression ever.
12. What the Hell – Avril Lavigne
My mindset as I embarked on Tinder for the first time last summer. I felt fed up and restless, and sort of needed to believe I was capable of being this girl. (Spoiler alert: I'm not.)
13. Jackrabbit – San Fermin
This resonated with me from the first listen. I saw San Fermin when they opened for alt-J, and they're really unique and cool. A+ for inclusion of band instruments.
14. Clearest Blue – CHVRCHES
One of my top five running songs. When that bass line hits, I'm all YEEEEES like Rocky running up the stairs.
15. Pretty Pimpin – Kurt Vile
Singing the days of the week was never so much fun.
16. Rivers and Roads – The Head and The Heart
Another song that usually makes me cry. It's about the changing nature of relationships and loved ones lost and found, which has been a major theme of my life this year.
17. First – Cold War Kids
Another instant like. I have no other anecdotes about it.
18. Door Number Three – Sara Bareilles (from Waitress)
I was musing about a closing track for this list/my year when I remembered I still hadn't downloaded Sara Bareilles' latest album, the soundtrack to her new Broadway musical. Sara is one of my most inspiring and kindredly artists, and sure enough, when this song ended I said "Yep. That's it." Also, I want to plan a trip to New York next spring to see Waitress!
Top Five Best of the Rest:
Independent – Webbie feat. Lil' Phat (this is "my song" with my friend Christina)
Uma Thurman – Fall Out Boy
Thinking Out Loud – Ed Sheeran (painfully swoony and romantic, so I can't listen to it much)
#Beautiful – Mariah Carey & Miguel
Here – Alessia Cara (anthem of introverts at parties across the land)
Yay for another year of musical ADD!
About Brenda W.
Christian. Memphian. Reader. Writer. True blue Tiger fan. Lover of shoes, the ocean, adventure, and McAlister's iced tea.
View all posts by Brenda W. →
December 17, 2015
Posted in
music
,
year end