One Word 2017: Abundance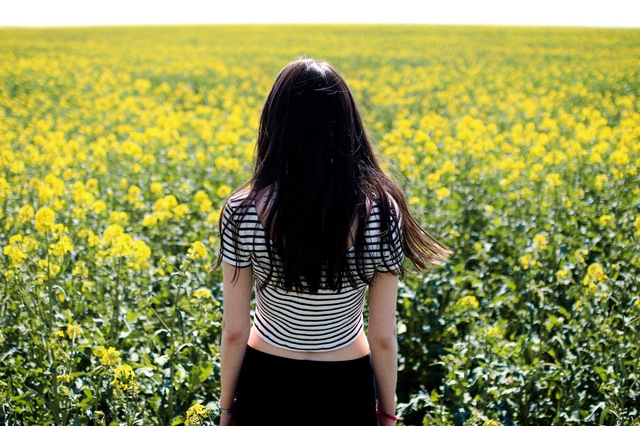 And God is able to bless you abundantly, so that in all things at all times, having all that you need, you will abound in every good work. – II Corinthians 9:8
The thief comes only to steal and kill and destroy. I came that they may have life and have it abundantly. – John 10:10
There is always more on its way – more opportunities, more ideas, more love. – Glennon Melton
Scarcity tells us the table is full, that we have to fight for a spot or fight to keep ours, that the spots will run out, or that we better pick a different table. But Abundance, abundance has endless wings to add to the table. Abundance has an endless supply of chairs. Abundance says yes! you can come! Bring your friends! There is plenty. – Abby Norman
2017 will be my fifth year of One Word. Choosing a word is sort of a mystical experience. Around October, I start listening for words that are resonating with me and/or coming up frequently. I decide what I need and what I want to work on in the coming year. I pay attention to how each possibility makes me feel.
Early last year, I was depressed. I believe many long-term life experiences have a snowball effect, a cumulative impact that's hard to understand from the outside. Over recent years, I'd taken so many blows big and small that all my fight was gone. The future looked bleak. I couldn't trust God at all. I felt so hopeless and exhausted that even professionals (both faith and medical) had no practical advice for me. Then help started to arrive: a good, supportive relationship, for a while. A small group full of quirky, honest people and holistic approaches to spiritual things. People I value consistently expressing confidence in me, no matter how little others thought of me. An inner spark that enabled me to do more and more on my own behalf. I'd felt neglected and even abandoned by God, like I was an inconsequential cog in His sovereign machine, and I thought I had to accept that fate with a smile on my face. I couldn't do that, which created additional angst. I'm privileged in many ways, but in the deepest sense, scarcity had been my reality for a long time, and it seemed increasingly unlikely that that would ever change. But as my general circumstances improved, I let myself believe these were not isolated bones being thrown to keep me hovering just above despair. I let myself believe that the tide was rising, and started stepping out accordingly.
At the start of 2017, I feel stronger than I have in years, maybe in all of my 30s so far. Some important needs are still unfulfilled and I'm dealing with a lot of the same crap, but my inner fire is back, and I think I might be coming into my best self. My pastor says people tend to face the difficulties of life in one of three ways: Denial, Determination, or Despair. It's Determination time, but no matter what I do to change my life, I already know there are things I can't make happen. I need help. I need God to SHOW UP. A year ago, I couldn't even ask Him to show up in any specific way because one more no would have broken me. It was less painful just to try to deal by myself. Now I'm in a better place. Now I have evidence that I might not be a cosmically designated short straw, and that sometimes the courage to ask makes all the difference. So I accepted my boldest One Word yet, a word easily perceived as selfish and Joel Osteen-y, a word that seems incongruous with the alarming state of our world, a word that feels like a culmination of all my words so far:
Abundance.
Here's what Abundance means to me:
♥ Abundant options. I've experienced a legitimate scarcity of career and relationship options. I'd like reassurance that there's plenty to go around, so I'm not tempted to act out of fear. I've successfully kept my dignity and said no to things that weren't right or fruitful for me, but I don't know if I can continue if every rare opportunity looks like my last, best, only chance. I'd like to consider a buffet of good things instead of one appetizer, to feel like a well-fed daughter instead of a starving beggar unsure if she'll ever have another meal. I'd like to be happily surprised. Paradoxically, I'd take one Right, True Thing over lots of options in a second, but either way, abundance is needed.
♥ Abundant love. I'm lucky to have abundant friends and family to love, and I want to love them better. I want to show love to myself by maintaining good boundaries and self-care. I want to be in love with a man who is in love with me. On a wider scale, I am determined to choose love over hate, continue learning what that looks like, and do whatever I can to encourage that behavior in others.
♥ Abundant life. The state of my Christian faith can't be summed up in even one post, but it's often sucked the life out of me more than it's given me life. I've thought about this a lot lately, and I believe that since Jesus came to bring me abundant life, I need new perspective. I don't know what that will take, besides the courage to let go of some things and draw further disapproval from fundamentalist types… but I'm already on that path, so bring it. Also (hang with me), I've been getting more connected to the Holy Spirit, and I'd like to continue exploring that.
On a real-world level, abundant life involves finding and fulfilling my purpose, which takes us back to the options thing. I think it also involves abundant words. My words dried up last year, but when I am able to write, it feels really good. I want to reclaim the right to express myself purely because it brings me joy, even if it's not especially meaningful, even if it's a non-defensible sharing of my heart (like this) in a time when some people won't let anyone speak without "proof."
I'm asking God for abundance not because I deserve anything, not because I'm good, but because He is, and I want to know that in a new way. Officially I don't believe in name-it-and-claim-it, but… I'm kind of claiming it. Whatever you believe about God's role in suffering (and all I have to offer is a big question mark), I've suffered, and I've milked it for all the growth I could. Now, I need Him to SHOW me that He is good, loves me, and wants good things for me. Right or wrong, that's just where I'm at. It's not as selfish as it sounds; an overflowing cup waters everything around it. If I operate from a place of abundance and security, I have more to give.
Common themes start to emerge after you've been practicing One Word for a while (something I'd love to discuss with other long-termers). I don't think that's bad or wrong. In December, in a moment when I wasn't thinking about my word at all, I got a sudden clear image of my progression in the form of an airplane. Enough, in 2015, was the plane pulling away from the gate. Light, in 2016, was excess baggage being removed and the runway lights coming on to point the way. But Abundance is about taking off. Buckle up, because in 2017, I'm going to fly.
About Brenda W.
Christian. Memphian. Reader. Writer. True blue Tiger fan. Lover of shoes, the ocean, adventure, and McAlister's iced tea.
View all posts by Brenda W. →
January 9, 2017
Posted in
one word: abundance