What I'm Into: April 2017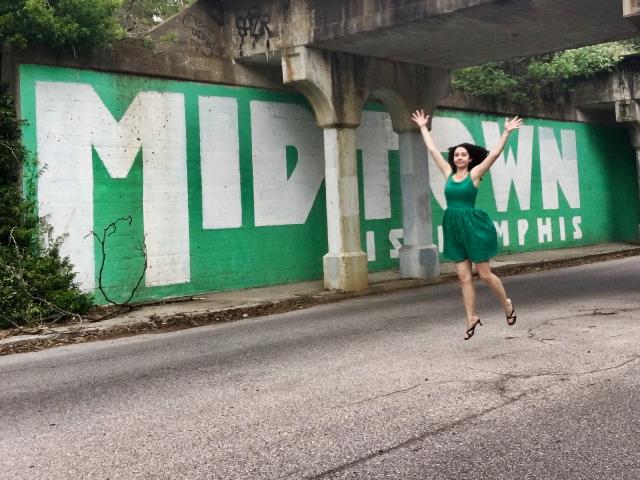 Main Events:
On April 16 I celebrated two years of living in the heart of the city I love. It's hard to believe I've been in Midtown that long, and I still don't take it for granted. One of the best decisions I ever made!
My mom suggested I host her and my dad for Easter this year and invite a few friends. I enjoy cooking for a small group and don't get to do so often, so I was on board. I made a favorite menu from an old issue of Real Simple – mustard-crusted pork tenderloin, sauteed collard greens, and Parmesan polenta, with lemon coconut cake for dessert. Church that morning was wonderful, I watched the Justin Timberlake concert movie on Netflix while I cooked, the food turned out perfectly, and we all had a happy, relaxing time. It was a great day!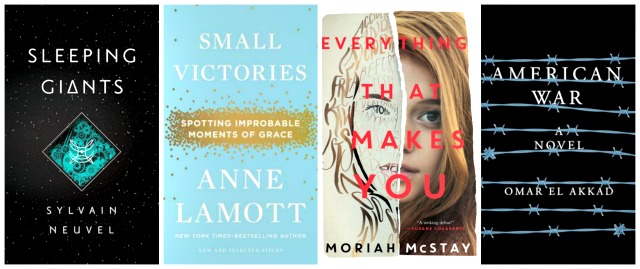 Reading:
April was a quality book month. Two of my books had similar conventions: Sleeping Giants, the latest take on alien robots (very entertaining and sure to be optioned if it hasn't already), and American War, a terrifyingly believable dystopia about life during the second American Civil War. I picked up Everything That Makes You in a Kindle sale and discovered it's set right in my neighborhood. Not many books are set in Memphis (probably, like, five if you take out John Grisham), so that was a pleasant shock! I've been reading Anne Lamott since college, but I think Small Victories is my new favorite of hers. I just loved it.
Listening:
My favorite band has a new single and a forthcoming new album!
Watching:
I'm far behind on New Girl, but when I heard the potential finale had aired, I streamed it and was very pleased with how everything ended up. I also watched the Banksy documentary, Exit Through the Gift Shop, which had been on my watchlist for a long time. I have a lot of feelings about the artist it actually profiled instead of Banksy. Mainly confusion.
Travel:
I took a spring break/mental health vacation the whole first week of April! My first stop was in Nashville to celebrate my BIL's birthday. I also went to Murfreesboro to see my college roommate and her family – I rarely have time to go out there when I'm in the area. I flew from there to Jacksonville for a few days with Bethany, one of my best friends and travel companions, who's made many appearances on this blog. We enjoyed her waterfront yard (complete with alligator), got massages, had Hamilton singalongs in the car with her kids, shared a beer flight in Five Points, and ate meals at Maple Street Biscuit Company and M Shack that restored me to life.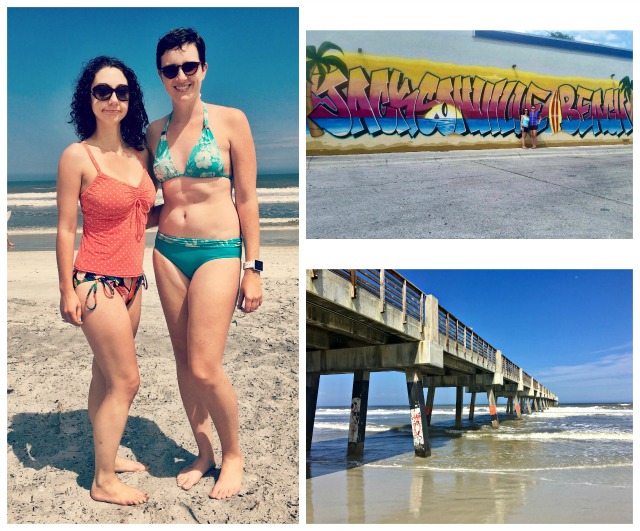 We also went to the beach two days in a row, which was the most life-restoring part of all!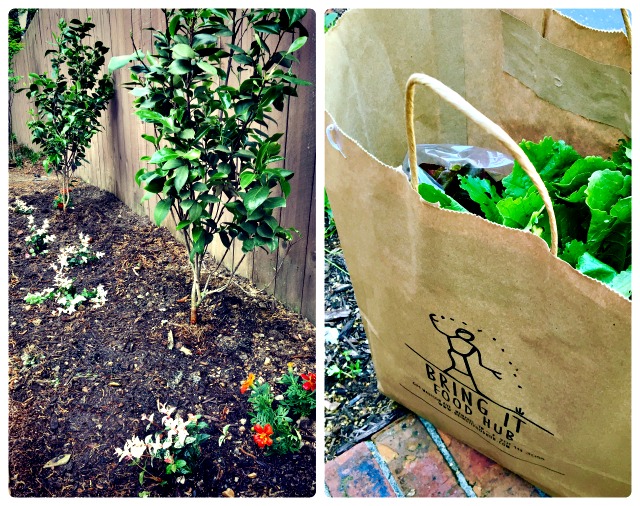 At Home:
After my trip I had a blessed few days off at home to relax. My only real to-do was to buy plants for the empty area in front of my fence. I spent a few happy hours wandering Urban Earth, and finally chose two camellias and some Asiatic jasmine, which I hope will spread out. Later I filled in with a few daylilies.
I've wanted to participate in a CSA for years, and my company just started a Bring It Food Hub delivery straight to the office. I got my first bag of veggies this week and am very excited!
Around Town:
There's nothing like playoff time in Memphis – maximum excitement and civic unity, minimum productivity and sleep. I went to one of the last Grizz home games of the season, then to Games 3 and 6 against the Spurs. After losing last night, we're now done for the season. I feel like Christmas is over and also like I just graduated.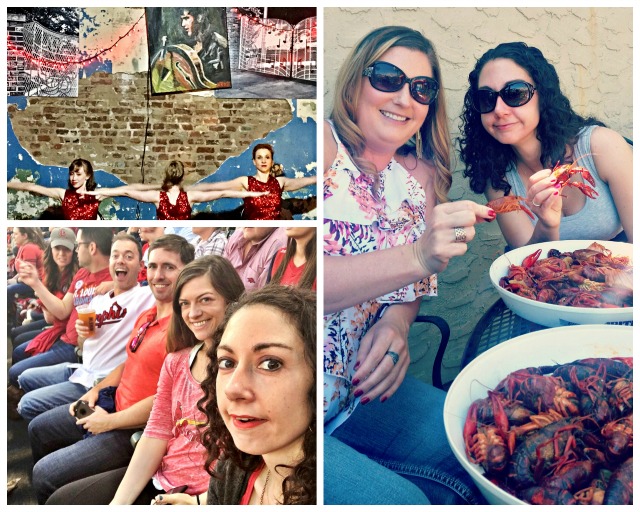 Brandi joined me for Overton Square Crawfish Fest this year – her first encounter with mudbugs! Per tradition, Wes, Kelsey, and I went to Battle of the Birds (Cardinals vs. Redbirds) with a bunch of friends to kick off baseball season. I saw a ballet in and about Earnestine & Hazel's, our most famous dive bar – it was really creative. My mom and I saw The Sound of Music at the Orpheum and I was reminded how I prefer some aspects of the stage version (I'm a lifelong Sound of Music fan and have seen it all a million times). Ashley and I went to another Ignite event (they're like 5-minute TED talks), this one focused on education. I ran the second annual Grizz 5K, and did well considering I've hardly run since the St. Jude and signed up the night before.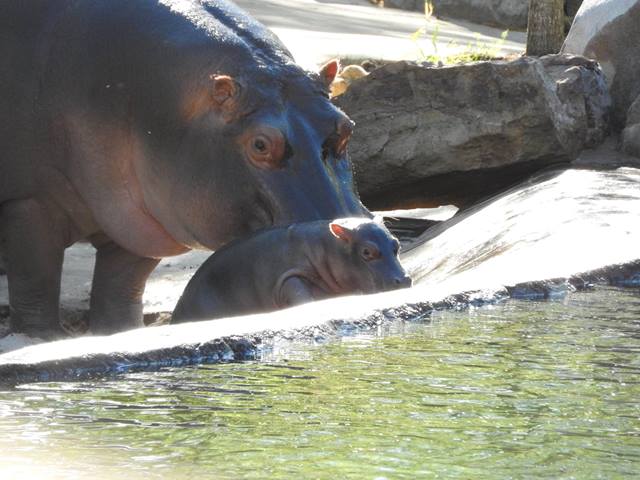 Photo credit: my mom
On Friday of my break, Mums and I went to the zoo to see the new baby hippo, Winnie, on her first day out in public. We got to watch the mom teach her to swim and get in and out of the pool. It was heartwarming!!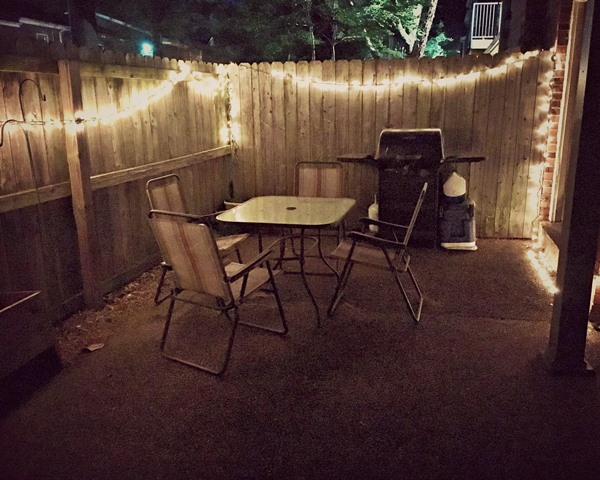 Random Happiness:
A year ago, I had to take down the white twinkle lights on my patio after a cranky neighbor decided they were "tacky" and got my HOA to threaten a fine. He moved out this month. I waited until the moving truck pulled out with the last of his stuff, and then I re-strung lights on the inside of the fence, where no one should be able to see them. JOYFUL RESISTANCE!!! Just in time for patio season.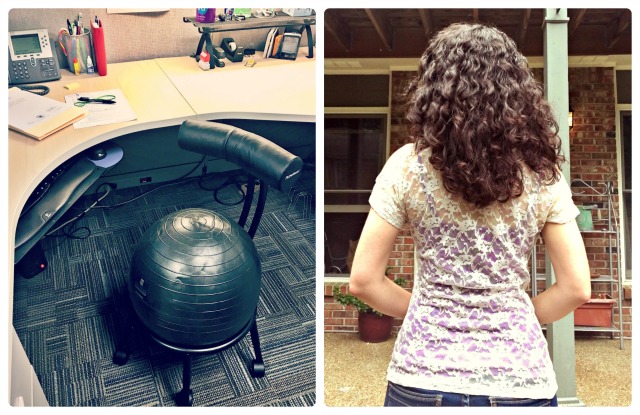 A lot of my co-workers have been getting standing desks. Standing all day doesn't sound great for my feet, but I wanted to do something, so I asked for an exercise ball chair. After a few weeks, I've noticed a difference in my posture and back muscles. The only real drawback, other than getting tired as the day wears on, is it's a pain to get up and sit down and realign myself, especially in a skirt or dress. Still, I'm glad to work a little toning into my day! I also started My Fitness Pal – I'm already in a healthy weight range, but I just want to lose a few pounds so my jeans will feel good again. When I felt weak and sick by the end of the first week, I realized 1200 calories a day isn't going to cut it for me and I'm going to have to try a higher range. I've gotten much better at listening to my body, and I don't know why I thought I could semi-stop feeding it and expect it to respond well. :P But it is working!
I also signed up with Charity Miles and joined the Hogwarts Running Club. I haven't been running much, but I also try to get those miles in for Gryffindor when biking or just walking somewhere.
I've been growing my hair out for about a year, and its current length pleases me. I haven't had longer hair in a long time.
Your Monthly Rufus: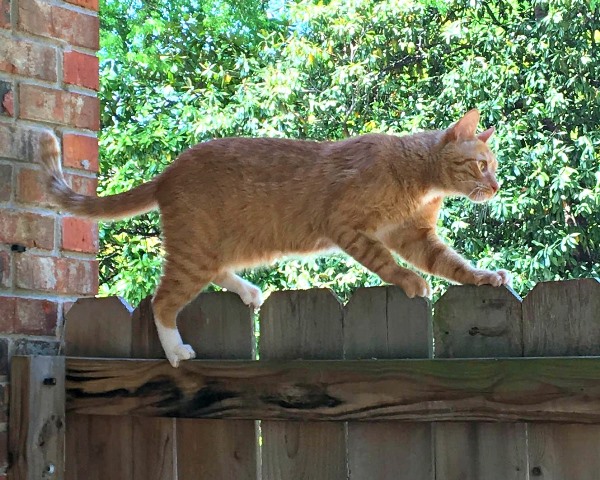 Rufus has been jumping the patio fence for several months. Now he's a fencewalker. He can make it all the way around to the gate.
Quote of the Month: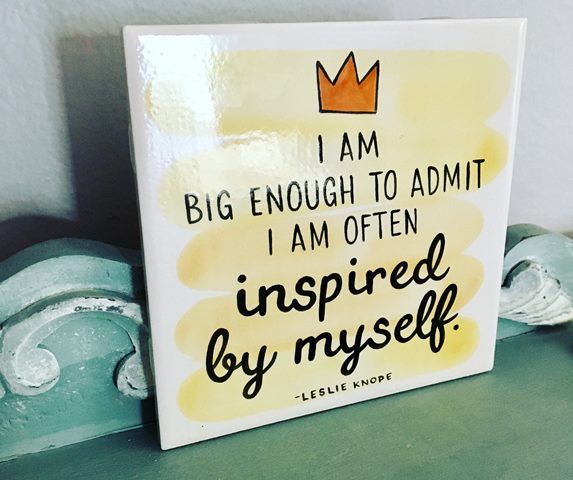 Bethany saw this quote tile at a craft fair and got it for me. I must be doing something right! ♥
On The Blog:
I wrote nothing of substance in April, but I'm sitting on a post about how life is hard for everyone no matter your life stage. I had a Facebook thread on this topic go to about 100 comments, so clearly it's not something I'm processing alone.
Good Reads:
♥ "You are not someone who half-asses anything. You are an overachiever and a perfectionist. Your letter is dynamic, crystal clear, and concise. You set your mind on losing weight, and you lost it. You set your mind on attaining multiple advanced degrees and an amazing career, and you achieved those goals… You are selling hard because in your mind, you are working with flawed goods. You'd better be convincing… If you keep asking for feedback, you will crack the code. You will satisfy your clientele. You will win the big prize of Happily Ever After." This piece hit me right between the eyes. I've been thinking about it for a week. Ask Polly: What Am I Doing Wrong With Men?
♥ Lisa Nielsen at Keen IO: The Best Benefit You Can Give Your Employees is Free
♥ Elle Berry: Be Brave
♥ Emily Freeman: Unhealthy Hustle: 3 Signs You've Crossed the Line
♥ Kerry Smith: Reflections of an Iris Farmer
♥ Heather Strong Moore: You're Better Off Alone
♥ Mark Titus at The Ringer: The Perpetually Overshadowed Life of Mike Conley
About Brenda W.
Christian. Memphian. Reader. Writer. True blue Tiger fan. Lover of shoes, the ocean, adventure, and McAlister's iced tea.
View all posts by Brenda W. →
April 28, 2017
Posted in
what i'm into