My Best Books of 2017
Remember when I used to post in-depth monthly recaps of everything I read? And sometimes individual long reviews of ARCs I would get from Netgalley and BookLook Bloggers? Ha ha!! That's too much for me these days, but I can handle a year-end book roundup. My reading time has become too precious to waste on books that aren't enjoyable OR edifying to me, so I'm getting better at DNF-ing without guilt or shoulds. As a result, most of the following selections fall into obvious categories. I guess there are worse things than self-awareness about what your reading catnip is.
FICTION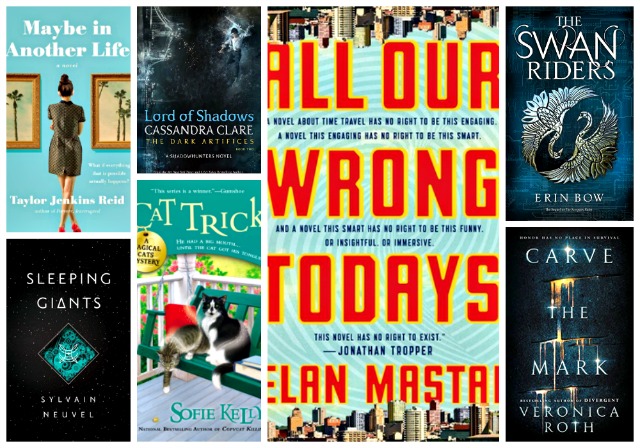 The Swan Riders (Prisoners of Peace, #2) – Erin Bow
The Scorpion Rules was my Best Fiction of 2015, and this sequel did not disappoint! Describing the plot will spoil the first book, so I'll just say these stories are so original and worth your time.
Lord of Shadows (The Dark Artifices, #2) – Cassandra Clare
The latest Shadowhunters novel is probably Cassandra Clare's best work to date. Emma, Julian, and the rest of the Blackthorn family find themselves in a politically charged race to find a powerful spellbook before someone worse does. This book is so incredibly relevant that I'm amazed it wasn't written this year.
American War – Omar El Akkad
It's the 2070s. The East Coast is underwater, and the Second American Civil War rages on. Born in Louisiana, Sarat grows up in a refugee camp in the sovereign state of The Mag (Mississippi, Alabama, Georgia) after her father is killed. There, she becomes the protegee of a mysterious man and is molded into a patriot and assassin. I wouldn't call this an enjoyable read, but I read it six months ago and it still haunts me regularly. If you can stomach it, I think it's important. El Akkad is a decorated war journalist and has created a very believable scenario.
Magical Cats Mysteries by Sofie Kelly
On the other end of the spectrum, I have loved this cozy mystery series about a newly transplanted small-town librarian and her two cats who help her solve crimes using their special abilities. Kathleen and her friends, and of course the cats, are so real and lovable. Just suspend your disbelief and soak it up. I'm on the fifth book, Final Catcall, right now.
All Our Wrong Todays – Elan Mastai
"Every person you meet introduces the accident of that person to you. What can go right and what can go wrong. There is no intimacy without consequence."
As sometimes happens, this became my Best Fiction of 2017 later upon reflection – I didn't fully realize how good it was while I was reading it. Tom Barren lives in an alternate utopian 2016 that exists due to discovery of a clean, renewable energy source in his 1965. Full of ennui, he hijacks his father's newly invented time machine and takes a trip with disastrous results. Now, in our 2016 that seems like a nightmare to him, he has a lot to figure out about family, love, purpose, and fixing his mistakes. This story will shake you up and make your head hurt at times, but it is SO, SO GOOD, and the "accident of a thing/person" concept referenced above is the truest thing I've read in a long time.
Sleeping Giants and Waking Gods (The Themis Files, #1 and #2) – Sylvain Neuvel
When Rose was a child, she fell through a hole in the ground behind her house and into a giant, glowing metal hand. Now she's a grown-up physicist recruited by a nameless Keyser Soze figure to figure out what the hand is and discover its purpose. As Rose builds her team and puts the puzzle pieces together (sometimes literally), the big picture becomes less and less clear. These novels were my most purely enjoyable of the year. They're smart, funny, suspenseful, and IMHO very visual in a way that would make them excellent movies. Love.
Maybe in Another Life – Taylor Jenkins Reid
I'm a sucker for a Sliding Doors concept, and this novel tells the parallel stories of 29-year-old Hannah after she returns to Los Angeles to live with her best friend. In one version, she goes home with her high school sweetheart after running into him at a bar, and in the other, she doesn't. It's interesting to see how different plot points translate across the stories.
Carve the Mark – Veronica Roth
In Veronica Roth's follow-up to the Divergent series, two ethnic groups are fighting for control of the planet Thuvhe. Akos, a farmer's son, is taken by the minority Shotet in a raid, and becomes a servant to the ruling Noavek family. Cyra Noavek is forced to use her "currentgift" of chronic pain against her dictator brother's enemies. As she and Akos get to know each other and grow closer, a rebellion begins to take shape. I waited a while to pick up this book, but there's a lot to dig into here, and I liked it.
NONFICTION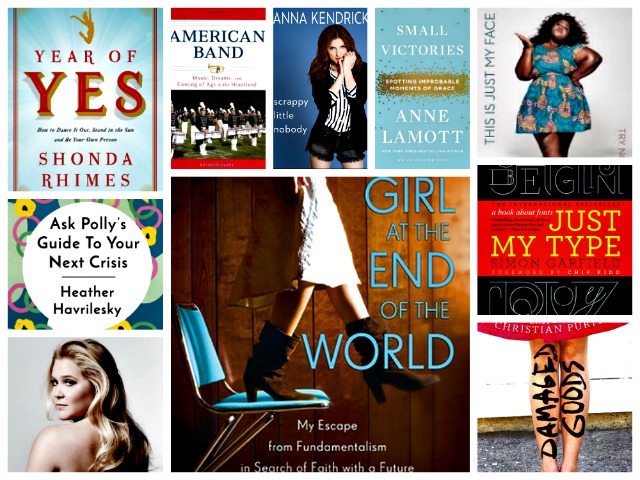 Essay Memoirs by Strong, Famous Women
Scrappy Little Nobody – Anna Kendrick
Year of Yes: How to Dance It Out, Stand In the Sun and Be Your Own Person – Shonda Rhimes
The Girl with the Lower Back Tattoo – Amy Schumer
This Is Just My Face: Try Not to Stare – Gabourey Sidibe
What can I say – this is my current favorite genre and I don't see that changing anytime soon. People, especially creative people, are so interesting! None of these women were quite what I expected, and in fact, Anna Kendrick is the only one whose work I was really familiar with before reading her book. (I am of course aware of the Shondaland empire, but haven't watched any of her shows, other than a few episodes of How to Get Away with Murder.)
Faith Evolution
Damaged Goods: New Perspectives on Christian Purity – Dianna Anderson
An examination of the long-term damage done by evangelical purity culture, and a proposal to build a new Christian sex ethic around consent and doing no harm to yourself or others. This book is controversial to many, but I appreciated the thought and care that went into it, and found it helpful.
Girl at the End of the World: My Escape from Fundamentalism in Search of Faith with a Future – Elizabeth Esther
"These men can just sit here on my shelf and argue with each other. I am done listening to their voices in my head. If I am going to find my way back to God, I will start from scratch. I will choose the way of the illiterate… I want to experience the God who inspired me as a child, the God who found me long before I could comprehend a single word in my Bible. I want to experience God pursuing me for once. I am tired of seeking, striving, and knock-knock-knocking on heaven's door. I no longer want to know that silent, capricious, harsh God who would just as soon throw me into the fires of hell as save me. I am challenging God to pursue me like someone who has never been exposed to the Bible. Love me, God. I dare You."
I think I would have named this memoir my Best Nonfiction of 2017 on the above passage alone. Thankfully, there's a lot more where that came from. Esther pulls no punches in telling the story of her upbringing in a fundamentalist cult, how she and her husband got out, and the messy process of rebuilding their faith and life. While my background is a lot less extreme than hers, her words really resonated with me.
Small Victories: Spotting Improbable Moments of Grace – Anne Lamott
More funny, deep thoughts from St. Anne. I think this is my favorite of her recent books.
Other Stuff
Just My Type: A Book About Fonts – Simon Garfield
This is what it sounds like. I've always been kind of a font nerd and thought this was informative and entertaining.
Ask Polly's Guide to Your Next Crisis – Heather Havrilesky
I've been an avid reader of New York Magazine's The Cut all year, and Ask Polly's advice columns are my favorite. Her writing is tender, wholehearted, and profound. This is the shorter of two collections that are out now.
American Band: Music, Dreams, and Coming of Age in the Heartland – Kristen Laine
A season with a national-championship high school marching band in Indiana, which, unbeknownst to the students, is their longtime director's last. This book took me straight back to my marching days, and has such a tight narrative and high drama that it's sometimes hard to believe it's real (but that's band life, right? :)). It had been on my TBR list for years, but I ended up reading it right before I met my boyfriend, who's a drummer and has instructed BOA-bound drumlines for years.
Everything else I read this year:
Fiction
Sorrow's Knot – Erin Bow
Maud – Melanie Fishbane
We Are the Ants – Shaun David Hutchinson
Love, Lucy – April Lindner
The Minor Adjustment Beauty Salon and The Handsome Man's Deluxe Café (The No. 1 Ladies' Detective Agency, #14 and #15) – Alexander McCall Smith
From a Distant Star – Karen McQuestion
Everything That Makes You – Moriah McStay
Summer Days and Summer Nights: Twelve Love Stories – Stephanie Perkins et al.
Steelheart (The Reckoners, #1) – Brandon Sanderson
Today Will Be Different – Maria Semple
Beast – Brie Spangler
Nonfiction
Nothing to Prove: Why We Can Stop Trying So Hard – Jennie Allen
You'll Grow Out of It – Jessi Klein
May I Be Happy: A Memoir of Love, Yoga, and Changing My Mind – Cyndi Lee
Present Over Perfect: Leaving Behind Frantic for a Simpler, More Soulful Way of Living – Shauna Niequist
Congratulations, By the Way: Some Thoughts on Kindness – George Saunders
Let's Talk About Love: A Journey to the End of Taste – Carl Wilson
Tables in the Wilderness: A Memoir of God Found, Lost, and Found Again – Preston Yancey
Final 2017 book count to date: 40, but I'm confident I'll finish one or two more before New Year's Eve. Although this is a low annual total for me, it's actually not as bad as it's felt. Either way, I'm aiming higher next year. I am also down to fundraise for a Memphis Library app with book availability and location info, preferably one that integrates with Goodreads. Let's bring reading into this century!
About Brenda W.
Christian. Memphian. Reader. Writer. True blue Tiger fan. Lover of shoes, the ocean, adventure, and McAlister's iced tea.
View all posts by Brenda W. →
December 22, 2017
Posted in
book reviews
,
year end