The 2017 Soundtrack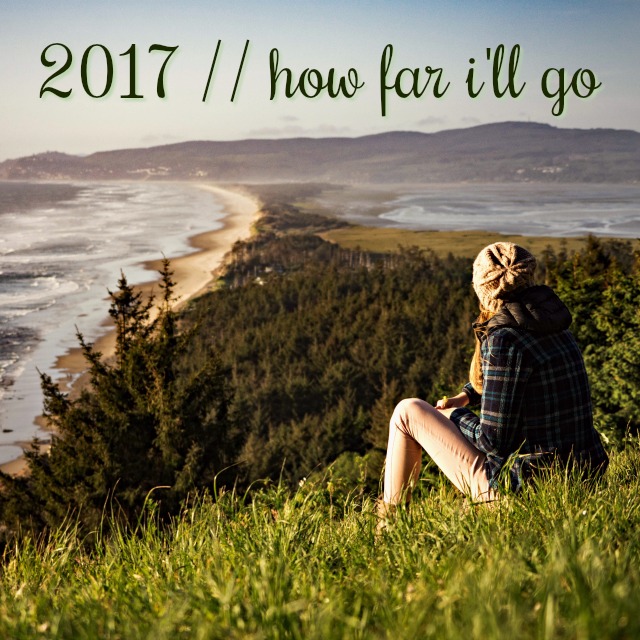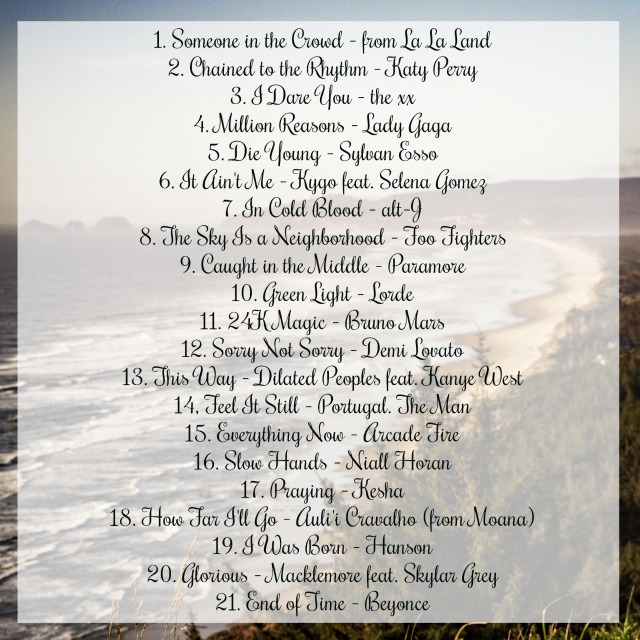 Previous annual soundtracks: 2016 // 2015 // 2014 // 2013 // 2012 // 2011
My rules: no repeat artists (duets and feat.s don't count) and the final product has to fit on a CD. As usual, I make no apologies or excuses for my musical taste. Listen here on Spotify!

1. Someone in the Crowd – Emma Stone, Callie Hernandez, Sonoya Mizuno, Jessica Rothe (from La La Land)
Someone in the crowd could be the one you need to know
The one to finally lift you off the ground
Someone in the crowd could take you where you wanna go
If you're that someone ready to be found
I saw and loved La La Land right at the end of 2016, too late to include it in any of my year-end wrap-ups. Right away I latched on to this song to set my tone for 2017. (Spoiler alert: it worked.) I also like the prominent flute part.
2. Chained to the Rhythm – Katy Perry feat. Skip Marley
They stumblin' and fumblin' and we about to riot
They woke up, they woke up the lions
Although Katy Perry is my homegirl, I haven't gotten into Witness and am mildly freaked by all its eye imagery. But I enjoy this song and associate it with the Women's March, which was an amazing experience.
3. I Dare You – the xx
I've been a romantic for so long
All I've ever heard are love songs
If I'd gotten back on any dating sites last winter, this song would have been a good profile.
4. Million Reasons – Lady Gaga
I bow down to pray, I try to make the worst seem better
Lord, show me the way to cut through all this worn-out leather
I've got a hundred million reasons to walk away
But baby, I just need one good one to stay.
This year's addition to my "Psalms of Brenda" playlist, and in my opinion, Gaga's best work to date. It takes a lot of talent to write something so simple yet so multilayered. This song encompasses my feelings about the hard things in my life, and my faith, which has felt old and worn-out for a while. But I keep trying to cut through the leather.
5. Die Young – Sylvan Esso
It's not like I chose, not like I tried
But now I gotta wait around and watch you burn so bright
Points for a well-written description of unexpected hope. Extra points for making it sound cool.
6. It Ain't Me – Kygo feat. Selena Gomez
I'll take with me the Polaroids and the memories
But you know I'm gonna leave behind the worst of us
A fun song that's come to represent me moving forward from the carefree phase I was living for a while.
7. In Cold Blood – alt-J
This song means nothing to me lyrically, but musically, it is TRANSCENDENTLY EPIC. Classic alt-J. I mean, just try not to play the air keyboard while listening to this.
8. The Sky is a Neighborhood – Foo Fighters
Heart is a storybook, a star burned out
Something coming up ahead
Don't look now
This is my favorite Foo outing in a while, but its presence here also references our local Foo Fighters concert that was promoted ad nauseam for most of 2017 and then got rescheduled. Now we'll continue hearing about it until next May.
9. Caught in the Middle – Paramore
I can't think of getting old, it only makes me want to die
And I can't think of who I was, 'cause it just makes me want to cry
Most people know Paramore is my favorite band. I was so excited for After Laughter, I bought it on CD and iTunes. Honorable mentions to Hard Times, Pool, and 26, but I had to choose this track as the most representative of my year.
10. Green Light – Lorde
This is a great song for running. I also enjoyed its usage in the finale of New Girl, which I hadn't watched in years but checked out to see how they potentially wrapped things up. (It was renewed for one more season, but I would have been happy with that ending.)
11. 24K Magic – Bruno Mars
My song of the summer, and one of Taylor's favorites. He loves Bruno.
12. Sorry Not Sorry – Demi Lovato
Now I'm out here looking like revenge
Feeling like a ten, the best I've ever been
As I've gained confidence and the tide has started to turn in my life, this is my standard-issue burn to everything that stood and stands in my way. I recommend it.
13. This Way – Dilated Peoples
This time I've made up my mind
This time I'm back on my grind
I know there's things in my life
That I'ma let go starting tonight
Another motivational song that got me through a lot of running.
14. Feel It Still – Portugal. The Man
My runner-up for the song I'll most associate with this year, generally. The first few times I heard it start, I thought it was a cover or creative rework of Selena Gomez's "Hands to Myself," since the first line is the same. Also, Taylor accurately calls Portugal. The Man "every Midtowner's automatic favorite band" based on the hipster name alone. :)
15. Everything Now – Arcade Fire
Every inch of sky's got a star
Every inch of skin's got a scar
I guess that you've got everything now
I originally included Creature Comforts on this playlist, but it's pretty dark, so I went with this song instead. It also has the advantage of playing into my Year of Abundance (which I know I've neglected to write about all year).
16. Slow Hands – Niall Horan
Another favorite summer tune that just makes me happy.
17. Praying – Kesha
I am proud of who I am
No more monsters, I can breathe again
And you said that I was done
Well, you were wrong and now the best is yet to come
'Cause I can make it on my own
And I don't need you, I found a strength I've never known
Becoming a Kesha fan was my greatest musical surprise of 2017. There are few artists I actively dislike, but I could not STAND her back when she was brushing her teeth with Jack. This confident, warrior Kesha is something else. I still get goosebumps every time I listen to this song and I wish I could send it back to my 2010 self. Honorable mentions to Woman, which has been in heavy running rotation, and Learn to Let Go.
18. How Far I'll Go – Auli'i Cravalho (from Moana)
If the wind in my sail on the sea stays behind me
One day I'll know, if I go there's just no telling how far I'll go
I cannot tell the musical tale of my year without Moana. I started listening to the soundtrack heavily in April, on a mental-health week off from work. So many of the songs resonate in my soul and got me thinking deeply about identity and place (I expect nothing less from Lin-Manuel Miranda, one of the greatest creatives alive). I realized I'm confident and stable in who I am, and could declare myself and focus on getting off the islands that can no longer contain me.
19. I Was Born – Hanson
My heart is a weapon and my mind's electric
I'll shock the world when you least expect it
Everybody's betting on the big guy
But don't underestimate the sting of the butterfly
In September I went to my fourth Hanson show, and my sister's first, despite her originally leading me to Hanson 20 years ago. It was fantastic. This song was their only new release this year. It's given me joy and reminded me at key moments why I'm doing things.
20. Glorious – Macklemore feat. Skylar Grey
21. End of Time – Beyonce
These two closing songs are shouts of joy, which is how I want to wrap up 2017. For maybe the first time in my adult life, I'm making positive advancements in my career and am in a happy, stable relationship. I realize things could change at any time, but I feel hopeful, and am appreciating this moment for all it's worth. I made it through the darkest part of the night, and now I see the sunrise.
About Brenda W.
Christian. Memphian. Reader. Writer. True blue Tiger fan. Lover of shoes, the ocean, adventure, and McAlister's iced tea.
View all posts by Brenda W. →
December 19, 2017
Posted in
music
,
year end